The Colombian winger is seemingly on the verge of signing a new contract, but all hope is not yet lost for Manchester United.
Manchester United's January plans may have been ruined by the news from Italy that Juan Cuadrado is about to sign a new contract.
The Fiorentina wide-man was linked with United all summer after impressing at the World Cup, but news emerging from Italy seems to indicate that the Colombian will today sign the new deal that has been on the cards for some time.
Sky Italia transfer master Gianluca Di Marzio posted this photo, supposedly of Cuadrado's agent Alessandro Lucci, along with club representatives and lawyer Paolo Rodella.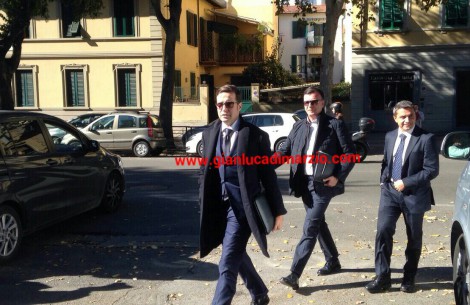 SEE MORE:
The Unwritten Rules Of Football – Balotelli's shirt swap a definite no-no.
Manchester United v Chelsea Live Streaming Guide and Premier League Preview
Hazard Goals – Chelsea star criticised by Belgium coach.
All signs seem to point for a new deal for the Viola star. But all hope is not lost for Manchester United. Reports from a few days ago claimed that part of the reason that Cuadrado was signing a new deal was that it had a £30m release clause in it, which Manchester United would be willing to pay. Thus the signing of a new deal could actually facilitate his transfer to Manchester United.
Manchester United play Chelsea on Sunday, coming off the back of a disappointing draw at West Brom. If they lose again against the league leaders, deals like this one will be even more important in the January window.