Liverpool fans have been unimpressed with rising ticket prices…
Pictures posted by the Daily Mail have revealed the extent of the Liverpool fan protest against rising ticket prices, which took place during today's 0-0 draw against Hull City at Anfield.
SEE MORE:
Manchester United v Chelsea: Live Streaming Guide And Premier League Preview
Swansea City v Leicester City: Live Streaming Guide And Premier League Preview
Real Madrid V Barcelona Live Streaming Guide And El Clasico Preview
Banners reading '£NOUGH IS £NOUGH' and 'Kop Kids pay Adult Prices' were on show with supporters angry at paying up to £59 to see last year's Premier League runners up.
The cheapest match-day ticket at Anfield is the second most priciest in the Premier League and costs £37, according to BBC Sport Price of Football survey. Only Chelsea fans pay more for their minimum ticket prices.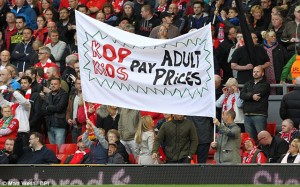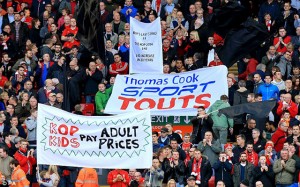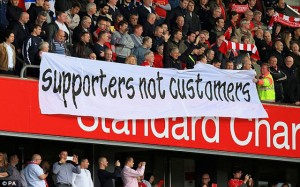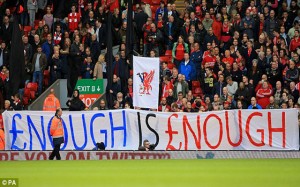 SEE ALSO: Best Premier League players 2014/15