Russia reveal 2018 World Cup logo…
FIFA have revealed the logo for 2018 World Cup with help of Russian cosmonauts. The logo depicts the World Cup trophy in red and blue, colors from the Russian flag, with gold trim.
SEE MORE:
Didier Drogba Goal – Striker powers in the opener
Mario Balotelli Scores – Italian gets his second Reds goal
Dejan Lovren Goal – Croatian defender wins it
Unveiling the logo on a Russian state TV talk show, Blatter said the logo would show Russia's 'heart and spirit.' It was then presented over video link by a crew of three Russian cosmonauts on the International Space Station.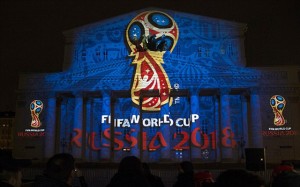 SEE ALSO: Top 10 best free kick takers in the world