Arsenal striker Lukas Podolski leaves Theo Walcott in stitches with hilarious joke…
Arsenal's resident joker Lukas Podolski takes every opportunity he can to have fun, and this might just be one of his best jokes yet.
SEE MORE:
Arsenal v Anderlecht Live Streaming And Champions League Guide
Sanchez Arsenal: Arsenal's Alexis Sanchez has been told to 'chill out' by his teammates during training.
Crystal Palace v Sunderland LIve Streaming & Premier League Preview
The German forward posted a picture on Instagram of Walcott and himself on the bench, with a truly fantastic caption.
"Theo said to me, 'Lukas, what happens if the pitch gets flooded with rain?' I said, 'the teams bring on the subs!' #Poldi #Theo #Aha #AFC #Fun #Smile #EnjoyLife #Redarmy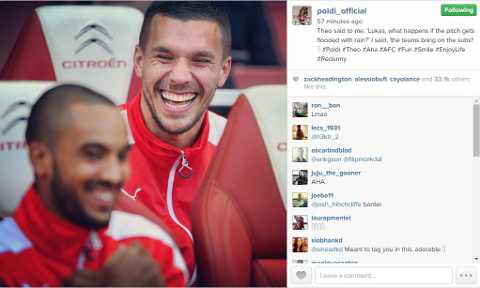 It's one of those jokes that is so horrendously bad that it's actually quite good. Well done Poldi!