The numbers don't add up as Anfield strike force continues to flounder.
Liverpool were expected to give the Premier League title another serious push this season, but instead look as though they will fail to qualify for the Europa League following Daniel Sturridge's injury earlier on in the campaign.
SEE MORE:
Live Real Madrid vs. Liverpool Streaming And Champions League Match Preview
(Image) Not Again: Liverpool 'Fan' Plans #RodgersOUT Plane Banner To Fly Over During Chelsea Match
Liverpool Wonderkid Raheem Sterling A Top Priority Transfer Target For Real Madrid
Fans believed that they would be in safe hands, though, as summer signings Mario Balotelli and Rickie Lambert linked up with a determined to impress Fabio Borini to lead the line.
However, the hapless trio have averaged less than five touches in the opposition box per match.
Liverpool will be desperate for Sturridge to make a swift recovery as the numbers below show that the three replacements are struggling to fill his boots.
There are rumours that Sturridge will make a return against Real Madrid in this week's Champions League encounter after he was snapped travelling with the squad, but as of yet there has been no official word over whether he will be in the starting line up.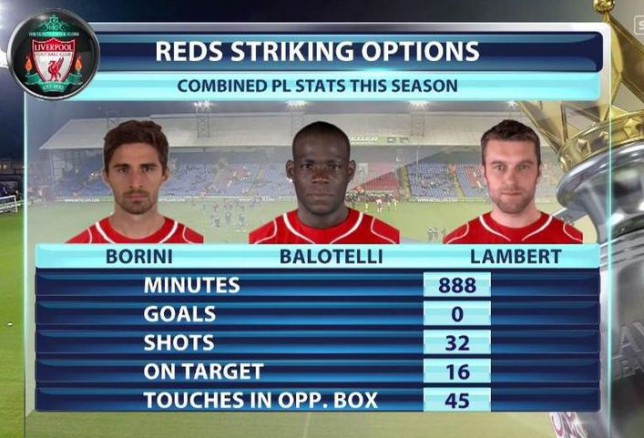 SEE ALSO: Best young football players in the world!