Reds fan makes what is already the biggest mistake of his life.
Hey, come on, we all do silly things. We all make mistakes, we're only human. But some of us are so blindly daft that even the most obvious bad ideas can seem like a good one. At least that's what happened to this fella when he thought he would get a tattoo of Liverpool boss Brendan Rodgers.
SEE ALSO:
14 long running transfer sagas and how we expect them to end this January.
Derby v Wolves live streaming guide and Championship preview.
Football Manager 2015 wonderkids.
Rodgers may be popular amongst most sections of the Anfield support, we certainly had no idea that some were clearly so taken with him.
The anonymous man opted to keep his identity hidden (good idea) but did have this to say about his new ink…
"I've always said that you can live without water for many days, but you can't live for a second without hope."
Uh…okay then.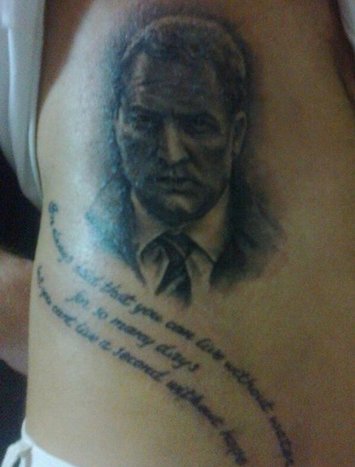 SEE ALSO: Stunning Gallery! 50 Really Hot Women In Football Shirts: Hot Babes In Liverpool, Arsenal, Chelsea & Man United Kit.