Dani Alves' girlfriend Thaissa Carvalho…
The glamorous Thaissa Carvalho was looking incredible here as she emerged from a sunlit pool of water, complete in what appears to be a sleeveless wetsuit.
SEE MORE:
Hottest TV presenters: Most beautiful sports show hosts in the world!
World's Top 50 Hottest Sportswomen
Top 40 hottest female tennis players in the world 2014
The girlfriend of Barcelona defender Dani Alves could of course be a Premier League WAG next season, with her hubby linked with a move to Manchester United among others.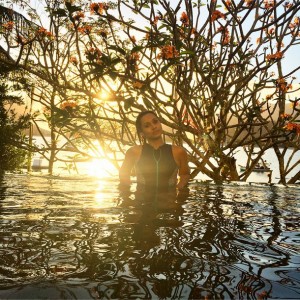 SEE ALSO: Ten Shocking Photos Of Drunk Footballers, Including Chelsea Captain & Cristiano Ronaldo, Plus Ex Arsenal, Liverpool & Tottenham Boozers.