Ouch! Liverpool fans will have more reason to hate Manchester United star Robin van Persie after his latest tweet…
Manchester United star Robin van Persie took to twitter to comment on Liverpool's misfiring forward Mario Balotelli, the Dutchman absolutely destroying the Merseyside club with a hilarious tweet.
SEE MORE:
FM15 Best Free Agents: Best free agents in Football Manager 2015 – Ex-Arsenal, Barcelona, & Manchester United stars included.
Hot International Fans: (Image Gallery) Which country has the hottest fans? Brazil, England, Germany, Or Russia?
Arsenal Khedira: Arsenal receive huge transfer boost in chase for Sami Khedira as Real Madrid reveal Christoph Kramer as ideal replacement.

Responding to a comment by Reds boss Brendan Rodgers about the Italian regularly scoring during training, van Persie said "Course he does, he's playing against Liverpool's defense."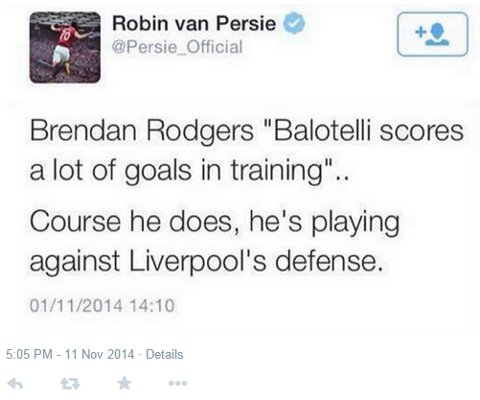 Unfortunately this tweet may not originally have come from the former Arsenal man himself. The only evidence remaining of the tweet itself is a screen shot, and if it did originate from the United striker's account then he has long since deleted it.