Unbelievable Chelsea fan loves Jose Mourinho so much he was willing to sell his car just to get a seat next to him…
A Chelsea fan sold his car to buy unbelievably expensive tickets just so he could sit near Jose Mourinho at the ATP World Tour, reports the Metro.
SEE MORE:
Nastasic Arsenal: Arsenal offered wantaway Manchester City star in January in cut-price deal.
FM15 Free Agents: Best free agents in Football Manager 2015 – Ex-Arsenal, Barcelona, & Manchester United stars included.
Hot Football Fans: (Image gallery) Which country has the hottest fans? Stunning girls in football shirts from Brazil, England, and many more.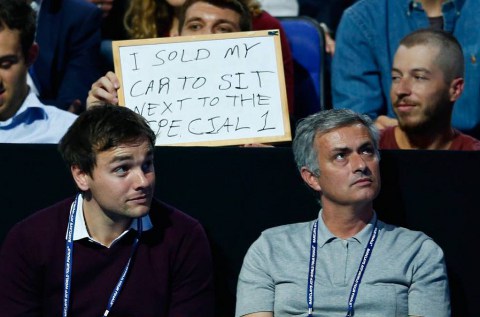 Mourinho was at the tournament to watch Andy Murray crash out against Roger Federer, but this fan was seemingly there to see the "Special One" rather than the tennis.
This guy is clearly such a super fan that he was willing to get rid of his car just to be within touching distance of the Portuguese manager.
He might regret his decision once the buzz has worn off and still he has to walk to work every morning.