Former Liverpool striker Luis Suarez has hit back at claims that he became overweight during his four-month ban for biting.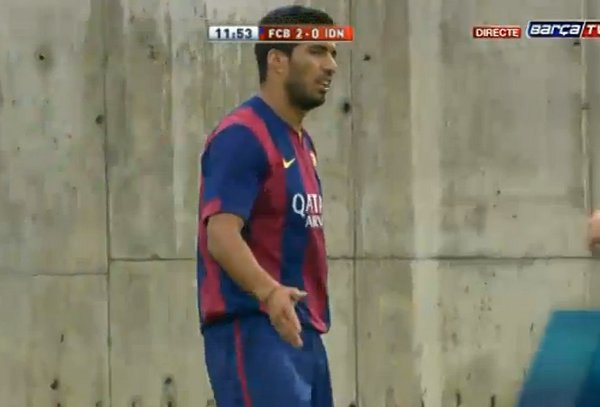 The £75m Barcelona signing had to wait until October before making his La Liga debut, having been suspended by FIFA for chomping on Giorgio Chiellini during this summer's World Cup.
Suarez was indirectly accused of chomping [on food] too much during his time away from the game, with the media jumping all over photos of him looking slightly heavier than usual during a Barcelona B friendly against Indonesia U21s.
However, Suarez has dismissed suggestions that he was ever 'fat', countering those accusations by claiming that he is one of Barca's fittest players.
In the video below, he says: "I was never overweight. It was just as Luis Enrique said on one occasion: 'Tell me when you see Luis Suarez thin'.
"The doctor who carries out the medicals at the club said that I was one of the six players at Barcelona who had the lowest percentage of fat and lowest weight. It was all part of the newspapers' game."
SEE ALSO:
Top 50 Best Premier League Strikers Ever: Daniel Sturridge 45th!
Premier League's 20 Most Tackled Players, Including Arsenal, Liverpool & Chelsea Stars.
Top 20 Leagues In World Football Based On Average Player Wages: England's £43,717 BPL Way Ahead Of La Liga.
SEE MORE:
Top 36 Hottest London WAGs, Stunning Arsenal, Chelsea & Spurs Babes All Pictured.
(Image) Smart WAG Alice Goodwin Finds Practical Use For 32FF Breasts.
Nadia Forde In All Her Glory! 20 Hot Photos Of Rory McIlroy's Ex Girlfriend Who Is To Enter 'I'm A Celebrity' Jungle.