Surely something of a faux pas from Man United's Wayne Rooney as he foolishly favourited a tweet picturing ex-prostitute Helen Wood, who the England star allegedly famously slept with…
Manchester United star Wayne Rooney may have made a bit of a blunder on his Twitter account, the England international favouriting a tweet about former prostitute Helen Wood, reports the Mirror.
SEE MORE:
Players Almost Signed Arsenal: Top ten players who massively regret not signing for Arsenal – Liverpool & Manchester United stars included.
FM15 Free Agents: Best free agents in Football Manager 2015 – Ex-Arsenal, Manchester United, & Barcelona stars included.
Isco Liverpool: Liverpool looking to bring Real Madrid star to Anfield in January.

Married father of two Wayne Rooney famously slept with Wood back in 2010 ahead of the World Cup in South Africa, a scandal that rocked the footballing world.
His twitter account has now removed all evidence that he favourited the tweet, with the Mirror suggesting the possibility he'd been hacked, but Twitter users around the world had already managed to secure photographic evidence.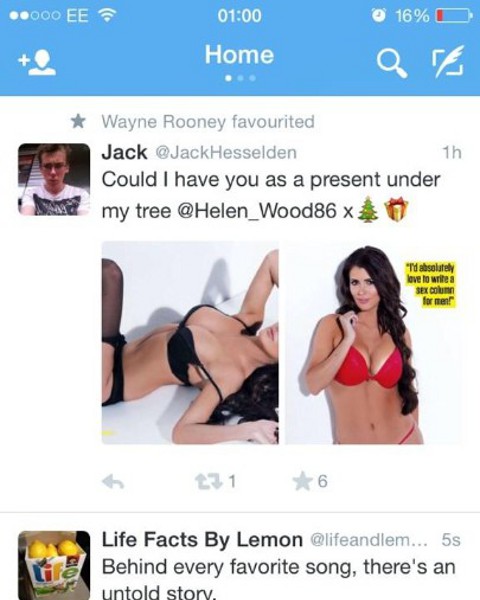 @LouisBoz @JackHesselden erm, am I seeing things? What the actual hell? ????

— Helly Woo Woo (@Helen_Wood86) November 17, 2014
The ex-prostitute has claimed that Rooney paid £1,000 for a threesome with her and her then friend Jennifer Thompson while his wife was five months pregnant.
It is worth noting that many high profile sportsmen employ people to run their social media accounts, so there is no proof that Rooney favourited the tweet in question personally.