Azzurri seal 1-0 win in friendly against Albania on Tuesday…
All the latest headlines from the newspapers in Italy as Italy boss Antonio Conte is frustrated and unhappy with various aspects of the Italian game.
Image courtesy of La Gazzetta dello Sport.
– The lashes of Antonio Conte. Attacks clubs and players: "Italian football doesn't teach hard work."
– Gets shot of Balotelli definitively: "I don't have time to change him."
– "Nobody helps us, I can't go four months without seeing the players."
– Cerci, Okaka and Acerbi are good news for the CT. Italy beat Albania 1-0.
– Vieri: "Here is the truth about Moratti, the wiretapping. I was treated like I was in the mafia but I will always love Inter."
– "Not being at the 2006 World Cup destroyed me. I suffered."
– Inter: Marseille's Gignac in Mancini's sights. The club are in legal chaos and the Frenchman, contract until 2015, will not renew.
– Cut to squads. Serie A will lose 80 players.The ok from the FIGC tomorrow: from 2015-16 a maximum of 25 players.
– Milan poor against the big clubs. Will the derby be the antidote? From 2011-12 only seven wins. Inzaghi tries Rami on the right.
Image courtesy of Corriere dello Sport.
– Conte accuses!
– Italy win, but the Coach is worried. "Hard work and humility are needed or we'll crash. We have to work together."
– Okaka decides it (1-0) against Albania, "but now we will see each other in four months."
– "Milan, Mancini will beat you."
– Tronchetti Provera launches the fight: "Inter for third place."
– Lionel Messi shocks Barca: "I could leave."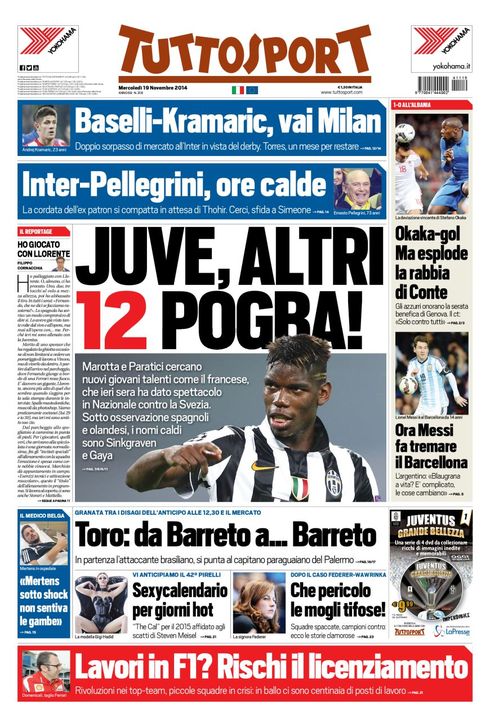 Image courtesy of Tuttosport.
– Juve, another 12 Pogbas! Marotta and Paratici look for new talents like the Frenchman, who put on the show with the national team yesterday against Sweden.
– Spaniards and Dutch being scouted, the hot names are Sinkgraven and Gaya.
– Baselli-Kramaric, for Milan. Double overtake on Inter in the transfer market ahead of the derby.
–  Fernando Torres, a month to remain.
– Inter-Pellegrini, key hours. The group of the ex-owner compact themselves waiting for Thohir.
– Cerci, battle with Simeone.
– Toro: from Barreto to… Barreto. The Brazilian striker is to leave, they look to the Paraguayan captain of Palermo.
– Okaka-goal but Conte's anger explodes. The Azzurri grace the benefit night for Genoa.
– The CT: "Alone against everyone."
– "Dries Mertens under shock, he couldn't feel his legs."