Emirates Stadium side should offload this duo as soon as possible.
Arsene Wenger has come in for a lot of criticism in recent months, and indeed recent years, and is frequently accused of not investing enough of Arsenal's massive cash reserves into improving his squad but two acquisitions made by the Frenchman this summer certainly deserve a great deal of credit.
Read more:
Read more Arsenal transfer news.
SEE ALSO: World's Top 50 Hottest Sportswomen.
Both Danny Welbeck and Alexis Sanchez have made instant impacts since their respective moves to the Emirates Stadium and their efforts, and potential, should render the futures of two Arsenal players somewhat obsolete.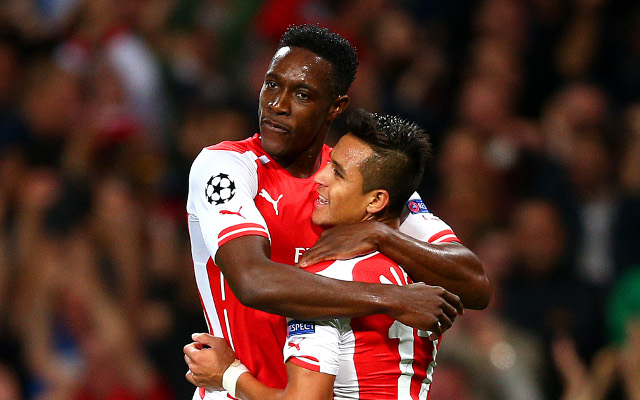 Olivier Giroud and Lukas Podolski arrived within a few weeks of each other in the summer of 2012 and have both had arguably patchy Arsenal careers to date. Spells punctuated with portions of good form but on the whole neither player has delivered the goods.
Neither player fits in an attack which should by rights include both Alexis and Welbeck. Neither player has the pace or dynamism that would gel with the duo or indeed the mentality of a side looking to use speed to drive fear into the heart of opposition defences.
Add to that push for a far more direct approach the likes of a fully fit Theo Walcott and Alex Oxlade-Chamberlain and it's even harder to find room for either of the aforementioned forwards.
Though allegations that Giroud is too one-dimensional may be a tad unfair the fact that the Frenchman is nowhere near prolific enough to lead the Arsenal line should be enough to call his future at the club into question.
Podolski has been deserving of more action this season, the World Cup winner still to start a single game in Premier or Champions League action, but hasn't done enough to warrant being considered a first team regular.
Too often he's appeared almost a luxury. A player who occasionally wakes up long enough to drive in a raking effort from the edge of the box. His game is far better suited to a league that offers him more time on the ball and a January exit would be wise for all concerned.