It sounds like Alexis wants to have his cake and eat it!
SEE ALSO:
Top Six Premier League Cheats: Arsenal & Chelsea Men Among Star Rule Benders.
Arsenal Vs Borussia Dortmund Streaming & Champions League Match Preview.
Six Players Who Have Had Way Too Much Game Time This Season, Including Arsenal Defender & Liverpool Duo.
Earlier this week, it was claimed that Arsenal forward Alexis Sanchez was feeling burnt out due to the excessive sexual demands of girlfriend Laia Grassi (pictured above).
One wouldn't think he had time for any other women.
However, the former Barcelona star has been accused of trying to secure a 'dinner date' with 2013 Miss Chile Camila Andrade (pictured below).
According to Camila, 23, Alexis also sent her holiday photos, but she rebuffed his advances.
She said: "Alexis invited me out for a meal while he was back in Chile preparing for the World Cup.
"I was between boyfriends at the time and it was the first time that he'd asked if we could meet up.
"I turned him down because he wasn't my type and I knew that many of the times he'd messaged me he was with his girlfriend and I liked that even less.
"When he was in Disneyland Paris with Laia in February he sent me a picture of himself on his own.
"I knew he was with her because I'd seen pictures in the paper and I really couldn't stop laughing.
"I messaged him to say: 'How nice, you're with your girlfriend, I've love to be where you are with my boyfriend' and he replied: 'No I'm with my little nephew or young cousin or some young relative', I can't remember exactly.
"He never said he was with his girlfriend and the following day there was a big picture in the paper of the two of them. It was very strange.
"All these starstruck young girls need to see all these footballers are the same and are not to be believed."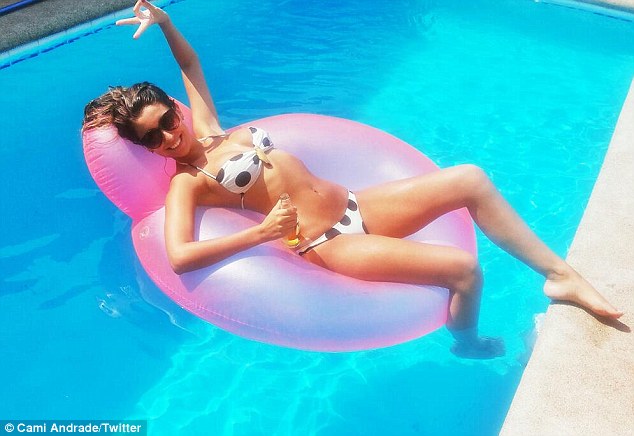 SEE MORE:
Top 20 Hot Female Celebrity Football Fans.
Worst Football Shirts Ever, Including Arsenal, Liverpool And Chelsea Abominations.
World's Top 50 Hottest Sportswomen.