As a team, Arsenal have not been great in the Premier League this season, but one player has made huge improvements…
SEE MORE:
Proof That Arsenal Should Ditch 4-1-4-1 Formation… Forever!
Revealed! Alexis Sanchez Is Arsenal's Fastest Player.
England midfielder Alex Oxlade-Chamberlain has featured in all 12 of Arsenal's Premier League games.
The 21-year-old has been one of the Gunners' top performers.
Check out these stats, which show just how much the Ox has improved since last season.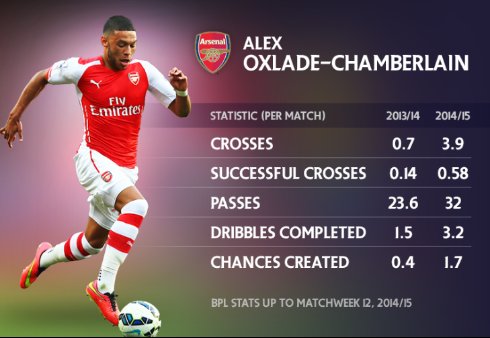 SEE ALSO:
Top Six Premier League Cheats: Arsenal & Chelsea Men Among Star Rule Benders.
Eleven Hot Photos Of Andy Murray's Fiancee Kim Sears.
Arsenal To Finish Seventh, Liverpool Fourth! Final 2014-15 Premier League Table Based On 260 Expert Predictions.