What Lampard's renaissance could do for Gerrard's future.
With Steven Gerrard's future at Liverpool dominating the news at the moment, CaughtOffside takes a look at whether or not the Reds should keep the 34-year-old – and how they could get the best out of him in the final years of his career.
SEE ALSO:
Ranking Liverpool's Top Six Striker Targets For January Transfer Window
Ranking The Six Main Contenders To Win The Champions League
Richest Football Clubs In The World 2014
Moved into a deeper midfield role by Brendan Rodgers last season, it looked as though a solution had been found to prolong Gerrard's Anfield career – less bombing forward, less box-to-box action, and simply sitting back to protect the back four whilst delivering the ball to the attackers in a simple manner to keep possession ticking along.
While that may have worked for some time last season, it could be argued that Gerrard's impressive statistics somewhat mask the fact that it isn't the ideal way to get the best out of an ageing player, at least not in the Premier League. Gerrard scored 14 goals last season, most of which were penalties, and 13 assists, 11 of which were from set-play situations. As well as that, Luis Suarez's sensational form in front of goal plus a fine supporting cast in Daniel Sturridge and Raheem Sterling helped the club hide the fact that their defensive record was woeful. Well, at least until a farcical 3-3 draw with Crystal Palace contrived to end the team's title hopes for the season.
With all that in mind, can Gerrard's move further back really be hailed as such a success? In a weaker team this season without as much firepower upfront, the former England captain has been exposed. He simply does not have the legs for this kind of play anymore, and it is worth looking at Manchester City's use of Frank Lampard for another way to keep Gerrard firing.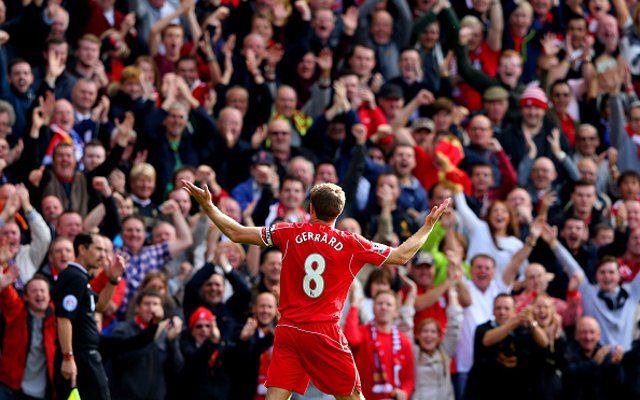 A great goalscorer at his peak, similarly to Lampard who continues to do the business at the age of 36, Gerrard should be used in a more advanced, more free role further up the pitch, where he certainly won't have lost his touch and technique in front of goal. With more players doing the hard work behind him, Gerrard could be deadly and help the team rediscover its mojo in attack. Lampard has been granted similar freedom by Manuel Pellegrini, and has benefited from it so far this season.
Aside from that, Gerrard should also not be starting every game. The club can prepare for life without him whilst still having him as an option in the squad, as his off-the-pitch influence is also invaluable to the younger players at Anfield.
Of course, it remains to be seen if the player himself would accept these changes after so long being the hero for the Reds, but a true great can accept his weaknesses and adapt. Lampard has, and it's time for Gerrard to do so too.