Arsenal great changes cover photo on Facebook to Emirates Stadium, minutes after announcing Red Bulls departure.
SEE MORE:
Arsenal Agree £31m Fee To Sign Serie A Star Ahead Of Manchester United
Arsenal On High Alert As Bayern Munich Boss Pep Guardiola Stalls On New Contract
Premier League's Best Defensive Records, With Chelsea Only 2nd, Manchester United 5th
Arsenal legend Thierry Henry has confirmed he has played his last game for New York Red Bulls but hasn't yet revealed if and where he will be playing next.
The 37 year old said in a statement on Facebook, that is visible at the end of this post, that he would "take the next few weeks to reflect and decide on the next chapter of [his] career".
However, in news that will bristle the hairs on the back of necks in North London, the Arsenal record goalscorer immediately changed his cover photo on Facebook to the Emirates Stadium.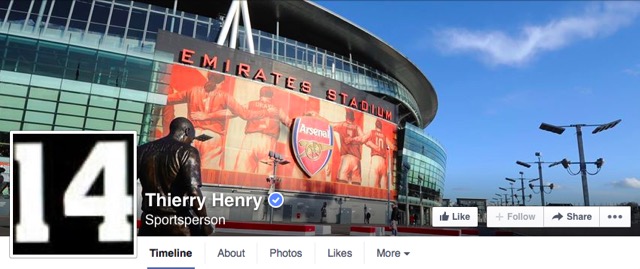 Could the Premier League great be returning for a third and final time?
When you see what the other veterans, 36 year old Didier Drogba and Frank Lampard are bringing in their cameo roles in the league, you wonder what Henry could bring if he returned to Arsenal one last time.
Thierry Henry Facebook statement: