Sanchez might have been the Gunners star player but statistics show he's had a lesser impact than Aguero at City.

SEE MORE:
(Image) Where Arsenal Would Be In The Premier League Without Alexis Sanchez
The Six Best Goal-Scoring Starts With Arsenal – Check Out Where Alexis Sanchez Features
11 Players Who Could Leave The Premier League In January Transfer Window, With Liverpool Flop & Man United Trio
Arsenal have been accused of being a one man team with the contributions of £35 million summer signing Alexis Sanchez being singled out as showing the Gunners' reliance on one player.
However, when shown in tandem with the stats of Manchester City's Sergio Aguero, the numbers reveal that City are a actually more reliant on the Argentine than the North Londoners are on Sanchez.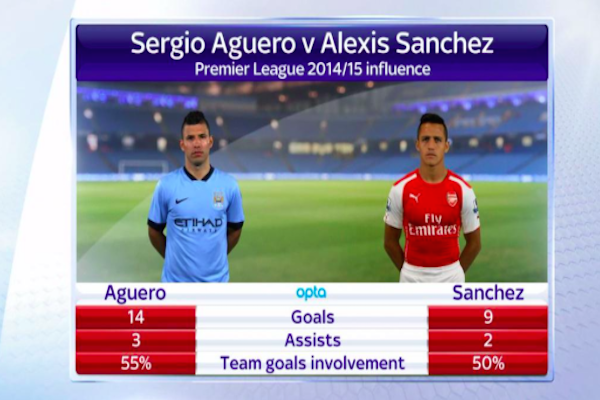 The numbers, collated by Sky Sports, show that Sanchez's nine goals and two assists this season mean he has been involved in 11 of the Gunners' 22 Premier League goals so far, giving him a team goal involvement total of 50%.
However, Aguero's 14 goals and three assists mean that he has been accountable for 17 of the 31 goals scored by Manuel Pellegrini's side, giving the Argentine a team goal involvement rate of 55%.
Surprisingly, these aren't the biggest stats of this kind with CaughtOffside revealing yesterday  just how reliant some Premier League sides are on certain players.
Aston Villa's Andreas Weimann, for instance, had a goal involvement rate of 62.5% after being involved in five of Villa's eight goals. And there were three more players; Gylfi Sigurdsson, Saido Berahino and Charlie Austin with better goal involvement rates than Sanchez and Aguero.
However, it begs the question; with all the snipes at Arsenal labelling them a one man team with Sanchez, what does that make Man City with Aguero after it's been shown they actually rely more on their star forward?