Swiss side mock Anfield slogan; "You'll Never Walk Alone".
SEE MORE:
Liverpool Horn Liverpool Target To Sign New Deal At Bundesliga Side FC Koln
Liverpool Cech Liverpool Target Chelsea Ace And Another Premier League Stopper As Potential Mignolet Replacements
Liverpool Transfer Premier League Bargain Bin – Ten Cheap Liverpool Transfer Targets In January
Basel held on for the draw in the end at Anfield last night and in doing so knocked Liverpool out of the competition whilst going through themselves.
Perhaps tired of being seen as Europeans minnows and stirred on by their recent successes against English clubs, the Swiss side decided to poke fun at the Premier League and posted this cheeky cartoon just minutes after the match.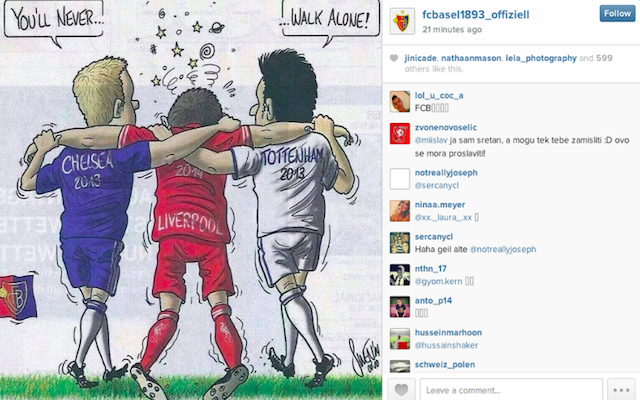 Basel took four points off Liverpool in this year's competition – beating them at home and drawing away last night – whilst doing the double over Chelsea in last season's group stage as well knocking Tottenham out of the Europa League.
Making fun of a club's historic slogan whilst simultaneously bragging about the number of English team's you've beaten takes some skill – so hats off to you Basel.
However, it isn't entirely clear which Liverpool player is being carried off the pitch – Steven Gerrard? But alas, we all know that if this picture were accurate Chelsea and Liverpool would actually be pointing and laughing at the Liverpool captain rather than helping him up.
Unfortunately, the picture has since been removed from Basel's Instagram account because, surprise surprise, it didn't go down too well.
The Swiss side have, instead, decided to post the run of the mill half-naked, locker room snap of the team cheering to show you just how happy they are to have made it through to the last 16.