Podolski stakes his claim in impressive Arsenal win.
Every once in a while an opportunity presents itself for a club to field a makeshift team and learn a little more about their squad options for the season, and this happened for Arsenal as a reshuffled side thrashed Galatasaray in the Champions League this week.
SEE ALSO:
10 World Class Players Who Could Make Premier League Transfer Moves
Most Booked Premier League Players Ever
Richest Football Clubs In The World 2014
Although it may be optimistic to take too much from a win over an incredibly poor team who have been massive disappointing in Europe in general this season, it is still quite startling how Arsene Wenger's largely reserve side came away as such convincing winners in Turkey, a famously hard place to travel to.
Still, it looks like this win could provide the building blocks for a better second half to the season. Firstly, Aaron Ramsey's return to form could now be just around the corner as he gets back to the kind of magic in front of goal that we saw for so much of last season. The Welshman's lack of impact in the final third this season has been a major contributor to Arsenal's decline, but he now has three superbly taken efforts in this last two matches and will be feeling far more confident about rediscovering his touch with that wondergoal in the first half against Galatasaray.
Overly reliant on Alexis Sanchez for goals this season, Arsenal could really benefit from Ramsey scoring again, and it will be far harder to play against the Gunners if they have players to hurt the opposition from a number of different parts of the pitch.
That's where Lukas Podolski comes into it as well. For reasons that look increasingly mistifying, the experienced German forward has been marginalised by Arsene Wenger for so much of this season, but reminded us all this week that he is an absolutely deadly finisher and cultured attacking player.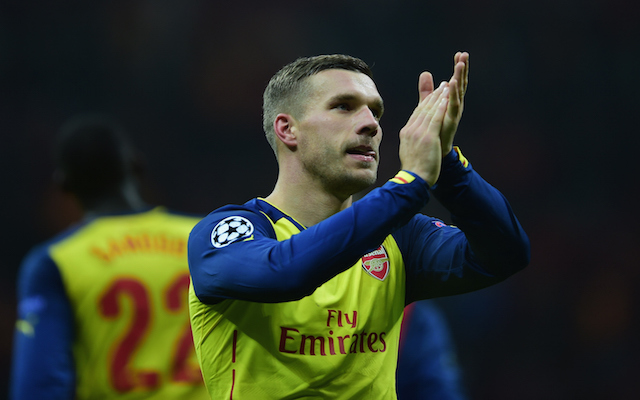 You don't win 121 caps for Germany for nothing, and recent suggestions that Podolski is lazy or disinterested seem totally unfounded, and based on little more than the fact that he seems to enjoy his social media presence, which is not exactly uncommon for most footballers these days – perhaps particularly so for those who aren't getting much playing time and have more time on their hands anyway.
The 29-year-old may have his weaknesses – he isn't the quickest, he probably doesn't have the fitness to cover box-to-box like Wenger likes his players to do, but there is purpose to his game, and rarely does he waste an opportunity to make something happen with the ball. Already this season, Podolski has three goals despite barely being given a sniff, and in previous years he has always made an impact whether through scoring or assisting, and that is a quality every squad needs. After finally being given a chance in this game, it's fair to say he took it and will surely give Wenger something to think about for the second half of the season.
Add an in-form Ramsey and Podolski to this side and Arsenal's job in January becomes all the more simple – don't bother attempting deals for Edinson Cavani, Jackson Martinez or whoever, just bring in that centre-back or defensive midfielder – ideally both – and add a backbone to an already-talented attacking team.