United can make a statement with Liverpool win.
Manchester United go into this weekend's game against Liverpool on the back of a five-game winning streak, but if the sixth could come in the form of a victory over their great rivals it would be a major psychological boost for the club in this attempt at a 'bouncing-back- season.
SEE ALSO:
10 World Class Players Who Could Make Premier League Transfer Moves
Most Booked Premier League Players Ever
Richest Football Clubs In The World 2014
The Reds humiliated United in their last Premier League meeting, comfortably running out 3-0 winners against David Moyes' struggling side at Old Trafford. This was one of eleven consecutive league wins that made Brendan Rodgers' side favourites for the title in the final weeks of the season. Even if it wasn't to be, many neutrals feel the Merseysiders were the best side in England last season and the more deserving champions than Manchester City.
Still, many also felt that, with the inevitable struggles brought on this season from the departure of Luis Suarez, the added burden of extra fixtures due to the Champions League, and the crucial loss of that surprise factor, that it may have been something of a one-off season for Liverpool in terms of establishing themselves as back on top of the English game.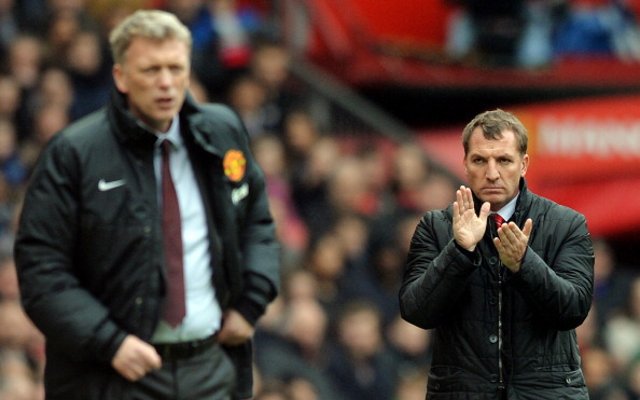 There's another major factor in that as well, which is the seemingly inevitable return of old rivals United as serious contenders to make the top four, or even better. Despite the damage done by Sir Alex Ferguson's retirement and a season of despair beyond belief under Moyes, there surely would be no keeping United down as a Premier League force; success is now in their DNA after the exceptional blue print left at the club by Ferguson.
And so both of these things are showing this season: Liverpool have indeed slipped up, perhaps worse so than expected, and United have bounced back, perhaps quicker than expected. As a result, both sides have so much to prove going into this game.
Liverpool will be eager to use this big fixture as a chance to hit back at their critics. A result of this magnitude could buy Rodgers a great deal more time after such a poor start that his job genuinely seems in danger, which would have been unthinkable just a few months ago. United, meanwhile, would dearly love to deal the blow that sinks their great rivals into even further danger, whilst also confirming their emphatic return among the big boys.
It's hard to believe only seven points separate the two sides at present, and it admittedly feels rather like it will be United enjoying the bragging rights this weekend, and perhaps again this season as a whole, after one year for Liverpool in the limelight.