Has Rodgers found his answer to striker crisis?
Liverpool may not have a great number of positives to take from their 3-0 defeat to old rivals Manchester United this weekend, but there is one performance that stood out as having some potential for this season.
SEE ALSO:
10 World Class Players Who Could Make Premier League Transfer Moves
Richest Football Clubs In The World 2014
Arsenal, Chelsea & Man United on alert as Real Madrid put five players up for sale
With the Reds short of options upfront after the exit of Luis Suarez in the summer, the repeated injuries to Daniel Sturridge, and the shockingly poor form of summer signings Mario Balotelli and Rickie Lambert, Brendan Rodgers opted for the wilcard option of Raheem Sterling in a roaming striker role at Old Trafford.
Playing as the main focal point of Liverpool's attack, drifting into pockets of space in a number of attacking areas, Sterling's movement was excellent as he fashioned chance after chance to get in behind United's defence. Unfortunately for him he was up against a David de Gea in top form on the day, and could not finish his chances when perhaps he should have.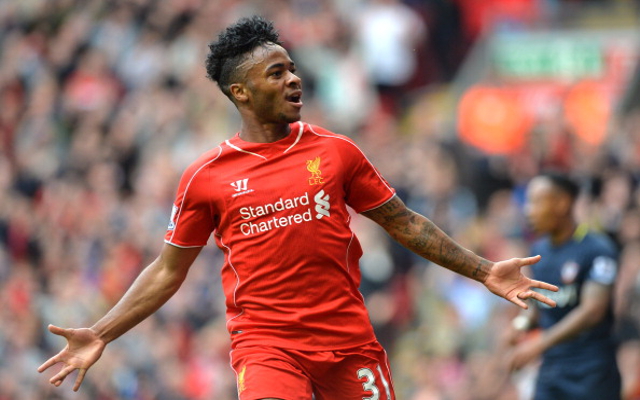 Still, Sterling has shown before that he can be an excellent and composed finisher, scoring 10 goals last season from out wide and netting three times so far in this campaign. Although this season's figures are perhaps not what fans would've hoped, he is probably a better option in that department than Balotelli and Lambert, who only have four between them in all competitions.
Sterling's pace make him a frightening prospect for defenders and United simply couldn't deal with him yesterday. Quite simply, with Sturridge out injured he is probably the closest the club have to someone who can provide that level of spark in attack. He's no Lionel Messi, not yet anyway, but he is similarly well suited to that 'false 9' role that is becoming increasingly popular, and it might just save Liverpool's season if Rodgers can pull off this tactical change.
Finishing can be worked on, and improves with confidence, and right now that may be all that's stopping Sterling fulfilling his tremendous potential in that position. He already has the core ingredients that are far harder to coach, in that he knows where to run and is an obvious outlet for midfielders behind him with his blistering pace. It's a gamble, but Liverpool might have turned a slight corner yesterday despite an otherwise dismal afternoon.