We look back on Henry's past glories at Arsenal as he announces his retirement from football.
SEE MORE:
Henry Stats Arsenal Legend Thierry Henry Retires: A Career In Numbers
Arsene Wenger's Greatest Ever Arsenal Team: Retired Legend Thierry Henry Leads Gunners Attack
Opinion: Diving Will Never Be Eradicated If We Don't Admit English Players Do It Too
There have been some incredible and other-worldly goals from Premier League and Arsenal legend Thierry Henry throughout his time in England.
CaughtOffside take a look at the French striker's five best goals in red and white.
Arsenal 4-2 Liverpool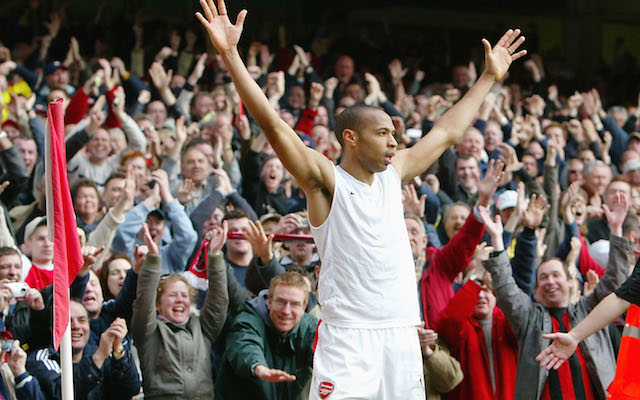 Out of the FA Cup and out of the Champions League in the space of seven days and Arsenal looked to be on the brink of total meltdown going in at the break 2-1 down against Liverpool on Good Friday.
Henry had scored before the break and when Robert Pires managed to level the score early in the second half Henry knew what he had to do.
Picking up the ball on the half way line, Henry ran directly at the Liverpool defence swaying and twisting, dummying his way through challenge after challenge. Detmaar Hamaan was the first to collapse as Henry surged past the German who fell to the Highbury turf.
A backtracking Jamier Carragher was the next in his path, the defender getting ever closer to his 18 yard box. Henry shimmied his hips one way before darting the other, the England defender completely perplexed by the Frenchman's movement spun around before colliding with Igor Biscan. One on one with Dudek Henry slotted the ball away with customary pomp.
Henry completed his hat-trick and secured a 4-2 victory, regaining much needed momentum for his team in the league and setting them up for one of the greatest feats in English football.