Huge controversy has been caused after Welsh rugby star Liam Williams dressed as Swansea City striker Wilfried Bony…
Welsh rugby star Liam Williams has found himself in hot water after "blacking up" when he decided to dress as Swansea City star Wilfried Bony, reports the Mirror.
SEE MORE:
Football Manager 2015 – Best Free Agents In FM15, Ex-Arsenal, Manchester United, & Barcelona Stars Included
Live Liverpool V Arsenal Streaming & Premier League Preview
Arsenal Montoya: Arsenal & Liverpool on alert as Agent confirms £16m star wants Nou Camp exit.
The Scarlets player dressed up as in form Premier League striker Wilfried Bony, posting a picture on Twitter of he and some of his teammates on the way to a fancy dress party.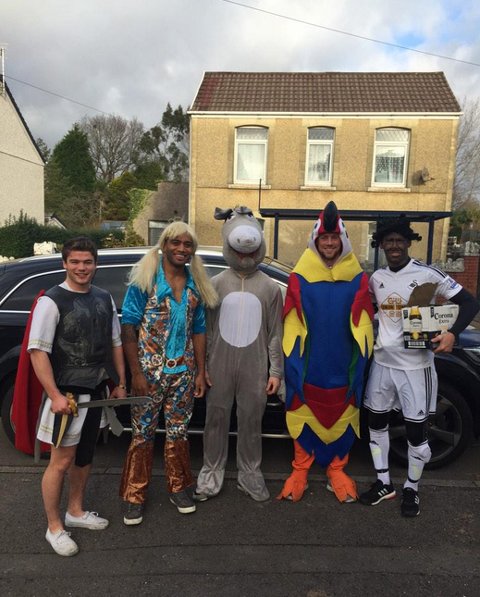 He has now been called upon to apologise for his actions, with the picture being very poorly received on social media. The Wales international has since removed the image, but has refused to apologise for it; defending his actions by saying Bony had no problem with it.
@glitterylou little do you eggs know, I know Wilfred through mutual friend and he is okay with it!

— Liam Williams (@SanjayWills) December 20, 2014
@glitterylou not a racist bone in my body. He's said its okay so no offence taken.

— Liam Williams (@SanjayWills) December 20, 2014
The 23-year-old appears simply to be ignorant rather than racist, and is unaware of the controversy surrounding the issue.
Williams has been involved in anti-racism campaigns before with the Wales Rugby Team, and with the Show Racism the Red Card campaign in particular.