22-year-old rewarded for strong form…
SEE MORE:
Inter Milan Now Favourites To Sign Arsenal Star
(Video) Neymar Scores Sublime Goal After Superb Rainbow Flick During Charity Match
Barcelona have opened discussions with the jaw-droppingly talented Neymar over a contract extension, reports Spanish daily SPORT.
(Pictured here:)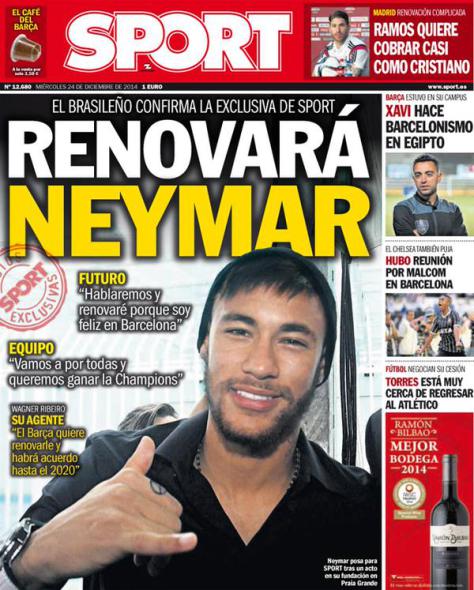 The attacker moved to Barcelona from Santos last summer, for a fee that, including transfer fees, agent fees, signing on fees and so on, approached £90m.
His first season was relatively quiet, but following a personally impressive World Cup showing in his homeland, Neymar's taken La Liga by storm in 2014/15.
The 22-year-old has notched 14 goals so far this term, and the club's hierarchy wants to secure his future as a result.
Along with Lionel Messi and Luis Suarez, he forms one of the most breathtaking forward lines ever created in world football.
His contract currently expires in 2018, but Barcelona want to extend it by two years, which should keep Neymar in Spain until 2020, when he's 28-years-old, and quite possibly the owner of a few Ballon d'Or awards!