Dortmund ace makes a weird joke on Instagram.
Borussia Dortmund defender posted a weird picture to Instagram with a slightly racist caption claiming he had sold his girlfriend for camels whilst on holiday.
READ MORE:
CaughtOffside's Top 10 Premier League Players Of 2014 – Just One Star Each For Liverpool And Manchester United.
Top Four Teams With The Most Shots In The Premier League 2014/15 – Liverpool And Arsenal Surprisingly High.
Louis Van Gaal Has Turned Manchester United Into A Long Ball Team – Five Biggest Hoofers In Premier League.
The 20-year-old full-back currently plays for Dortmund's B team, and whilst on holiday for the winter break jokingly claimed to have sold his gorgeous girlfriend, Katharina Lembke, for some aid in getting through the desert.
Using a couple of the locals and a few props in the background, the young star hash tagged his way through a weird choice of words.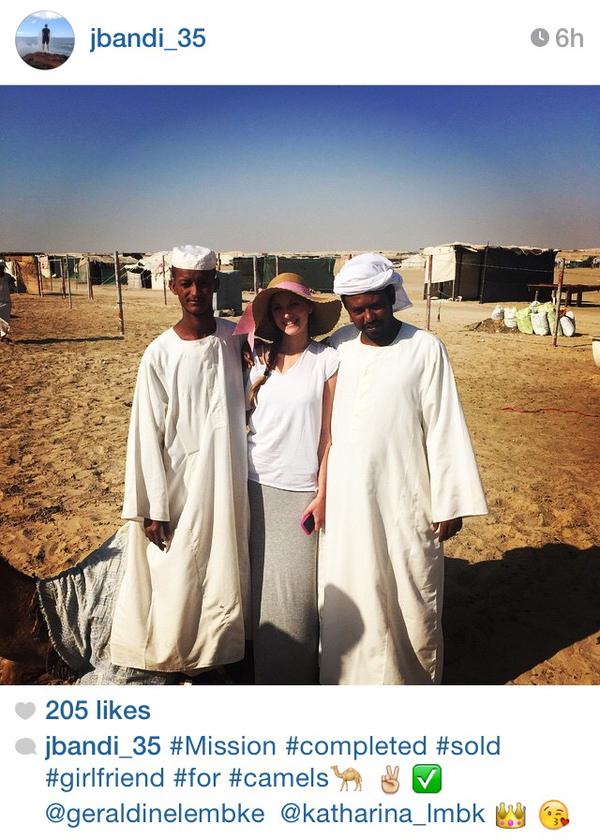 SEE ALSO: Best young football players in the world!