Former Arsenal man puts his foot in it yet again.
Former Arsenal midfielder and professional social media wind up merchant Emmanuel Frimpong has been at it again, this time mocking outgoing Liverpool captain Steven Gerrard.
SEE MORE:
Breaking: Steven Gerrard Confirms He's Leaving Liverpool At End Of Season
Five Potential Destinations For Steven Gerrard After Liverpool Departure: Could Man City Swoop In Again For Premier League Veteran?
Five Players Liverpool Should Try To Sign In The Summer To Replace Steven Gerrard
In a post on Instagram that has since been deleted the Ghanaian mocked Gerrard's inability to win the Premier League title during his 16 years at Liverpool.
Frimpong, who is known more for his big mouth than any actual footballing skill, posted a split image of Gerrard and much maligned Manchester United midfielder Anderson side by side.
The Manchester United man with his four Premier League winners medals on show whilst Gerrard has a crudely pasted dog tags around his neck which say: "Finished above Man United 2014".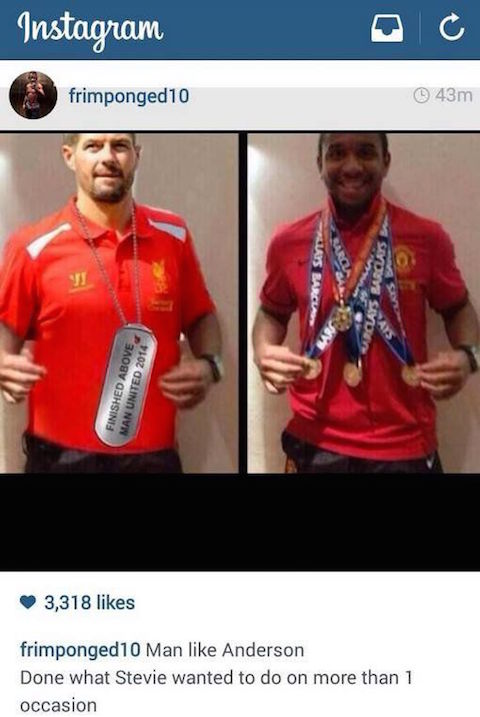 Frimpong now plies his trade at Russian side FC Ufa, after being released by Barnsley just four months after being sold to them by Arsenal.
Perhaps someone should make an image of Frimpong celebrating the fact he actually managed to play in one Premier League standard game during his career because that is a quite unbelievable achievement.