Football simulation game Football Manager 2015 has predicted the final Premier League table…
The experts at Football Manager have been running simulations on the second-half of the Premier League season. Below are two tables, the first of which is a prediction of how the final standings will look without any further January transfer business, the latter includes predicted signings.
SEE MORE:
20 Excellent Strikers In Football Manager 2015 Available For Less Than £20m
The 30 Best Centre-Backs In World Football, According To Football Manager 2015: Man United And Arsenal Targets Included
The 12 Most Consistent Players In The World, According To Football Manager 2015: Chelsea Full-Back Top, Andrea Pirlo Third
In the first scenario, Chelsea beat Manchester City by three points, despite losing games against City and Aston Villa. City lose to Stoke, Liverpool, Southampton and QPR.
Manchester United lose to Tottenham and Liverpool, but Louis van Gaal does enough to inspire a third place finish. Southampton fall away but still secure a spot in Europe, while Brendan Rodgers' side beat Arsenal to fourth.
Leicester, Hull and Sunderland are relegated. City beat United 3-1 in the Manchester derby and Arsenal beat Tottenham 4-1 in the North London match-up.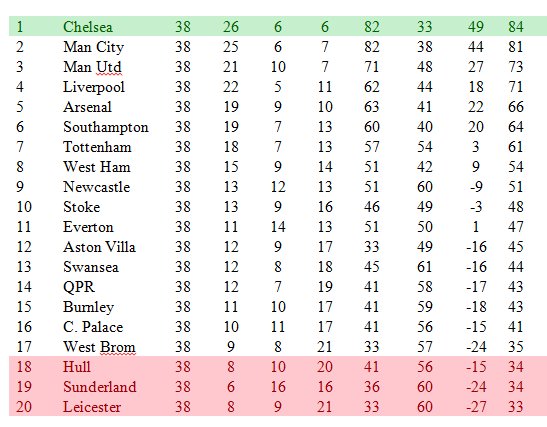 In the second scenario, Manchester City beat Chelsea on goals scored, making it the closest finish in Premier League history. United again finish third, but this time Arsenal do finish fourth.
Tottenham and Liverpool fill the European places, while Sunderland miss out on Premier League safety on goal difference. West Brom and Hull also go down after uninspiring finishes to the season.
City's new signing Wilfried Bony scores just four times, while Bafetembi Gomis strikes nine for Swansea. Kevin Strootman and Moussa Sissoko do well at United and Arsenal respectively.
Berahino leaves West Brom, scoring six in ten at Tottenham to fire them to fifth place, while Albion fail to replicate his goals.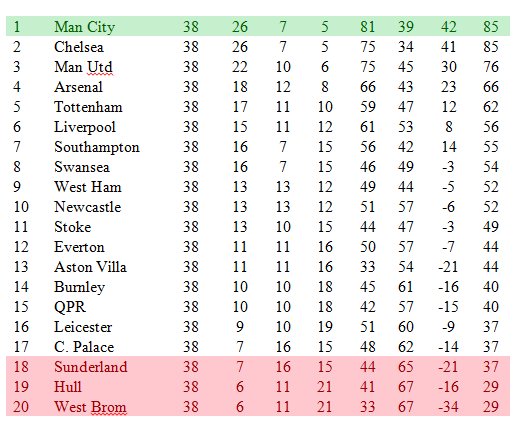 The game also predicted the Championship table, with Bournemouth champions in both scenarios. Middlesbrough come second without transfer activity, while Ipswich finish second after making several new signings.