Semi-final is delicately poised but Reds WILL claim silverware this season.
Liverpool may have scored the most important goal of their season on Tuesday as Raheem Sterling danced through the Chelsea defence to equalise in the first leg of the Capital One Cup semi-finals.
SEE ALSO:
The best left-backs in world football, including Chelsea, Arsenal & Real Madrid enforcers
Hot WAG Alice Goodwin & Glamour Model Pal Make Stunning Page 3 Tribute
Liverpool transfer news
The England international, fresh after being granted a break for a holiday in Jamaica, is now surely ready to hit the incredible heights he reached last season after Brendan Rodgers took the brave decision to rest him for a few games, despite much media criticism of the player and excuses of tiredness earlier this season.
Rodgers made a brave choice in singling his best player out in what was always going to be a controversial move, but while it also means he can enjoy a fully fit and firing Sterling for the rest of the campaign, it also served as a useful distraction technique while Liverpool have quietly got back to their best form.
The Reds are now unbeaten in their last nine games in all competitions, winning six of those, and managed to prevent that run being ended in their difficult test against league leaders Chelsea this week.
A 1-1 draw at home may not be the ideal result for Rodgers' side, but it might actually suit them best as they head to Stamford Bridge for the return fixture. Snatching a lead in the first game would've made it tempting for Liverpool to sit back on their lead in the away match, which is, as we know, not the way they're best suited to playing.
If they go to Chelsea needing more than a draw, they can continue their improved attacking football and bring another result.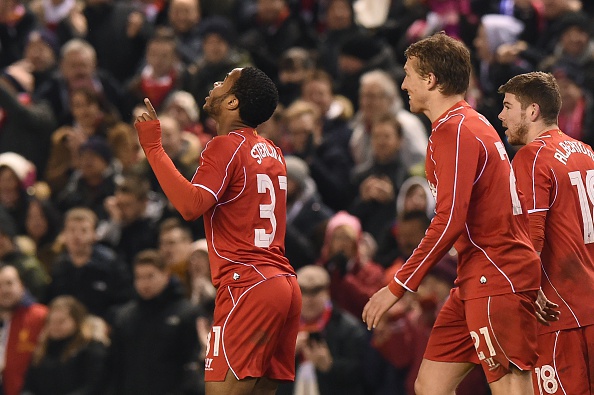 Of course, playing the Blues is never easy, especially this season, but it seems likely that Jose Mourinho will have one eye on the all-important leaugue game against Manchester City just days later. With the chance to put themselves eight points clear of their main title rivals and effectively seal their main priority for the season before February, it is hard to imagine that the League Cup will be the main thing on Mourinho's or his players' minds.
Chelsea also have the FA Cup and Champions League to think about in what could make a memorable season to replicate the legendary Manchester United side of 1999. The fact is, the Capital One Cup is not in the same bracket for the truly elite sides, but it is undoubtedly a breath of fresh air for a team in transition such as Liverpool, who could do with a piece of silverware to confirm they are moving in the right direction under Rodgers.
A failed title challenge last season brought about some hope, but that expectation has also proved crippling for so much of this season so far, and it is in the knockout competitions that the Reds now have to look in order to save their season.
Victory at Stamford Bridge is achievable and a final against Tottenham Hotspur or Sheffield United would then not be the most daunting obstacle if they can get past the bigger test.