Why Dortmund have gone backwards this season.
Champions League finalists in 2013, genuine relegation strugglers in 2015 – it is hard to remember a more drastic demise than that of Borussia Dortmund under Jurgen Klopp.
SEE ALSO:
(Video) Borussia Dortmund Beaten By Augsburg: Jurgen Klopp's Men Rooted To Bottom Of Bundesliga Table
(Video) Mats Hummels Apologises To Borussia Dortmund Fans After Latest Defeat
Borussia Dortmund Star Hummels 'Can't Defend' And Is 'Too Slow' For Manchester United
Just two years ago, the Germans were flying high – the reigning Bundesliga champions did not look like retaining their crown, but were focusing their efforts on a superb Champions League campaign that saw them crush Real Madrid on their way to only the second final of their history, where they were unlucky to end up on the losing side against treble winners Bayern Munich. Only one of the finest club sides of modern history got in their way of an astonishing triumph.
All this was achieved with a wonderful brand of bold, attacking football that won over the hearts of neutrals all over the world. Dortmund's players were looked at by bigger clubs, and Klopp himself has been strongly tipped to go on to manage one of the Premier League's giants, with Manchester United, Arsenal and Liverpool all linked with him, as well as La Liga powerhouses Barcelona in the last year or so.
Still, Klopp's side now sit rock bottom of the German top flight and are in real trouble after a shock 1-0 home defeat to Augsburg this week, with Mats Hummels and Roman Weidenfeller feeling the need to apologise to angry supporters after the game.
Where has it gone so wrong for Dortmund? Well, it may just be that there is no better example of the harsh realities of the modern game for any side that dares to over-achieve and challenge the big boys. With so much success, two of the team's best players in Mario Gotze and Robert Lewandowski were both snapped up by bitter rivals Bayern Munich and the latter, painfully, on a free transfer after his contract expired.
Liverpool have certainly suffered from losing Luis Suarez, while Arsenal have also felt that blow of big names losing many times in the last decade. There can be no doubting it will always derail a team's progress, but in Dortmund's case the results look a little extreme.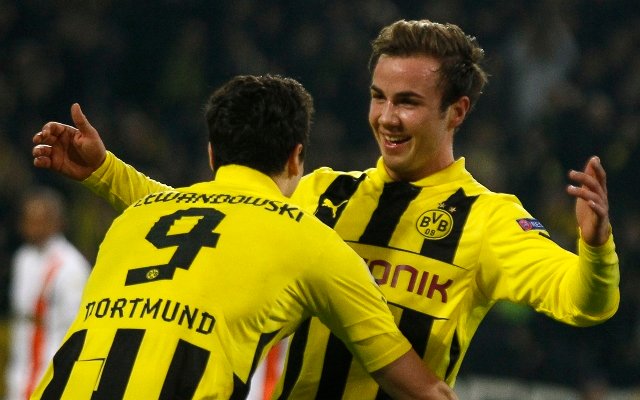 Could two players really be so instrumental to that side's early success under Klopp? After all, this is still a team with top players like Hummels, Neven Subotic, Marco Reus, and the returning Ilkay Gundogan. Many of this current side were involved in the 2013 run to Wembley and can surely be doing better than a relegation battle.
Still, a quick look at the players brought in to replace both Gotze and Lewandowski perhaps shows where it's all gone wrong. Two strikers were signed this summer to fill the void of the Polish goal machine, but Ciro Immobile and Adrian Ramos have just a pitiful five league goals between them.
In attacking midfield, Gotze was replaced last summer by two players as well, but Pierre-Emerick Aubameyang and Henrikh Mkhitaryan have not really done the business. The former is good in front of goal but lacks Gotze's creativity and assists record, while the latter – once a big-money target for Liverpool, has zero goals and zero assists this season.
Shinji Kagawa, re-signed from Manchester United this summer after a difficult two years at Old Trafford, has one Bundesliga goal and no assists.
In contrast, look at Atletico Madrid, who have remained competitive under Diego Simeone despite losing Diego Costa, Filipe Luis and Thibaut Courtois to Chelsea in one summer. The Spanish giants similarly won their domestic league and reached the Champions League final against all the odds, but have managed to bring in top quality replacements for their departed stars.
Klopp's record in the transfer market could be what costs him a top job at a bigger club in the future. There can be no getting away from the fact that Lewandowski's exit on a free was badly handled, and the Gotze money clearly not well spent either.
Although there is always a big challenge to keeping a team competitive when big players leave, it is one that the 47-year-old has failed badly at so far, and one that will haunt his career if it leads to relegation this season.
SEE ALSO: Instagram WAGs: 29 Stunners You Must Follow.