Embarrassment all round.
Carlos Hugo Lopez Chargoy, owner of Chiapas Jaguares in Mexico's Liga MX, said a hacker published the tweets attacking Paul Delgadillo (a referee) during the game against Leon.
"I have been told that our official Twitter account has been hacked, someone logged into our account and sent those tweets. We immediately deleted them after we noticed them, and according to our communications team we have now changed our passwords," said the team owner.
SEE MORE:
Harry Redknapp Resigns As QPR Manager
Andy Kellett: Manchester United New Boy is Statisically the WORST Player In the Championship
Philippe Coutinho Signs New Long Term Liverpool Contract
In the image below you can see a picture of the tweets that were published: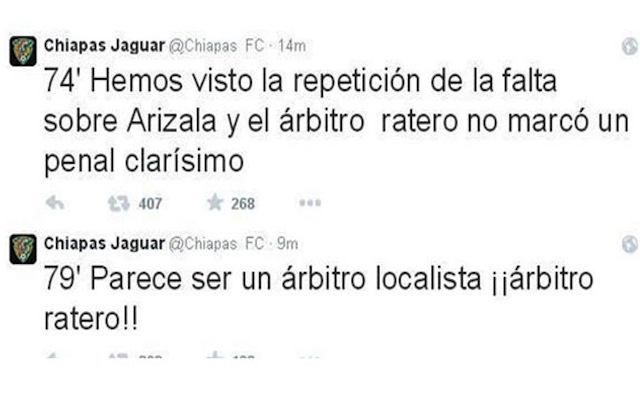 Mauro Boselli scored first  the first for Leon in the 7th minute via a penalty and Jaguares drew level in minute 27 thanks to a goal from Abiles Hurtado. The game ended 1-1.