Lazio president was pushing for the changes to be made…
All the latest headlines from the newspapers in Italy as the referees reject the proposal of a new way of designating officials to games through 'draws'.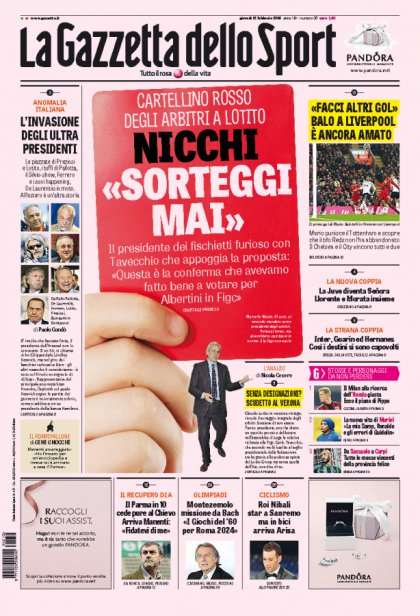 Image courtesy of La Gazzetta dello Sport.
– Red card from the referees to Lazio president Claudio Lotito, Nicchi: "No ref draws".
– Lotito wanted to overhaul the system in which referees are assigned to games. Instead of the officials being designated specifically by the referees association, AIA, he wanted a random draw system to replace it.
– President of referees furious with FIGC president Carlo Tavecchio who supports proposal. "This is the confirmation we'd have done well to vote [rival] Demetrio Albertini for the FIGC".
– Get more goals – Mario Balotelli still loved by Liverpool.
– Ten-man Parma give in even to Chievo, new owner Manenti arrives and has a message for the fans: "Trust in me".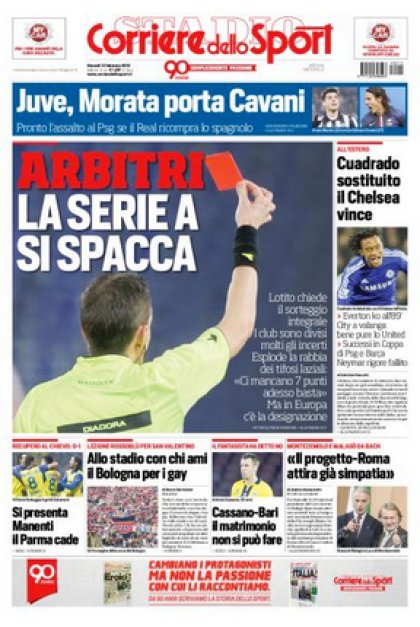 Image courtesy of Corriere dello Sport.
– Referees, Serie A divided.
– Lotito asks for referee draws, clubs divided but Palermo president Maurizio Zamparini backs his rival's plans for reform of the system.
– Lazio fans angry, "We've lost 7 points, that's enough now". Supporters call for an end.
– Juve, Alvaro Morata brings Edinson Cavani. If Real Madrid opt to buy back the Spaniard, then Juve will move for PSG striker.
– Antonio Cassano-Bari, marriage can't go ahead. Former Italy international still searching for a new club.
– Former Juve star Pavel Nedved: "Juve, opponents, Berardi and Sturaro".
– Czech legend on why Juve face animosity from their rivals in Serie A: "In Italy when you win too much you get enemies, we're used to getting attacked on the pitch and off".
– Nedeved also suggests that Berardi and Sturaro will be part of the future of the team.
– Journey to the Basque hideout, "An honour to face Torino". Torino prepare for their Europa League tie.
– Inter, another revolution. Samp, Moisander to sign.