Barca pick up first leg win over Villarreal but won't relax yet…
All the latest headlines from the newspapers in Spain as Real Madrid are preparing to make their move in the transfer market for Porto star Danilo.
– 'Going for Danilo'.
– Real Madrid insist on the right-back from Porto. The 23-year-old Brazil international will see his contract end in 2016, but it is reported that he currently has a price-tag worth €25m.
– Barcelona are also following his situation in Portugal.
– Cup passion in the semi-finals. Barca 3-1 Villarreal as Blaugrana have half a foot in the final.
– Important Barca advantage as Neymar misses a penalty left by Lionel Messi but the hosts take a strong lead into the second leg.
– Bruno, three months injured.
– Athletic 1-1 Espanyol. Athletic came out alive and the post twice stopped Espanyol as Aduriz and Victor Sanchez scored the goals which leave the tie in the balance ahead of the second leg.
– Drama even before the game though as the Espanyol bus was stoned on arrival.
– Plague of muscle injuries for Real Madrid. 15 cases involving 11 players, Fabio Coentrao the latest as Carlo Ancelotti is starting to struggle with injuries. Young prospect Odegaard could get the call.
– 'Keylor Navas against Deportivo'.
– Carlo Ancelotti yesterday put him in the starting line-up for Saturday just a day after Iker Casillas insisted that he was tired of being made the Madrid scapegoat.
– New Bernabeu: Madrid hope for a rule change that will not be possible until after elections as they look to get back on track with their stadium plans.
– Athletic 1-1 Espanyol. Espanyol came close to finishing it at San Mames.
– Barca 3-1 Villarreal. Neymar missed a penalty and Villarreal came out alive.
– Espanyol propose stopping La Liga if the television deal isn't re-made. The general consensus for years has been that the TV deals in Spain strengthens the top three and doesn't allow the other clubs to bridge the gap financially.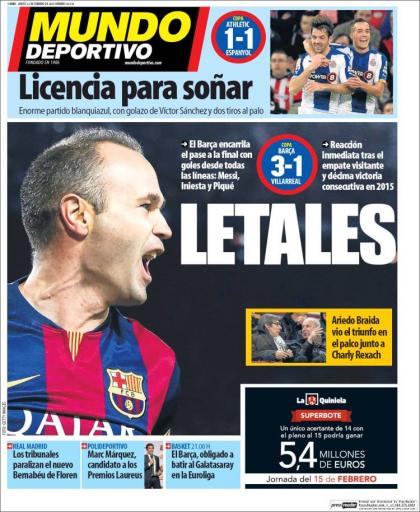 Image courtesy of Mundo Deportivo.
– 'Lethal'.
– Barca on the way to the final with goals from every line: Messi, Iniesta and Pique all scored in the first leg against Villarreal.
– Luis Enrique got an immediate reaction from his players after the opponent drew level as they went on to secure their 10th consecutive victory of 2015.
– Athletic 1-1 Espanyol. License to dream.
– Huge game for the Blue and Whites, with a golazo from Victor Sanchez but they were unlucky not to come away with the win after twice hitting the post.
– New Barcelona head of international football Ariedo Braida watched the victory from a box with Charly Rexach.
– Real Madrid. The court stops the new Bernabeu of president Florentino Perez as the approval for the plans is withdrawn.