Beckham and Carragher aren't two people you'd think would be best pals.
Ex Liverpool centre back Jamie Carragher and ex Man Utd and Real Madrid winger David Beckham have been enjoying some friendly Twitter banter about the number 23 shirt.
READ MORE:
Aaron Ramsey To Miss Arsenal's Crucial Champions League Tie But Better News For Alexis Sanchez
(Video) Watch Thierry Henry Score 228th & Last Arsenal Goal On This Day In 2012
(Video) Brooklyn Beckham Hits Ace Shot In Arsenal Training, Looks Eerily Similar To Dad David
Carragher wore the 23 throughout his Liverpool career, while Beckham switched from 7 to 23 when he moved to Madrid – reportedly after he became aware it was Michael Jordan's number.
You can see the exchange below: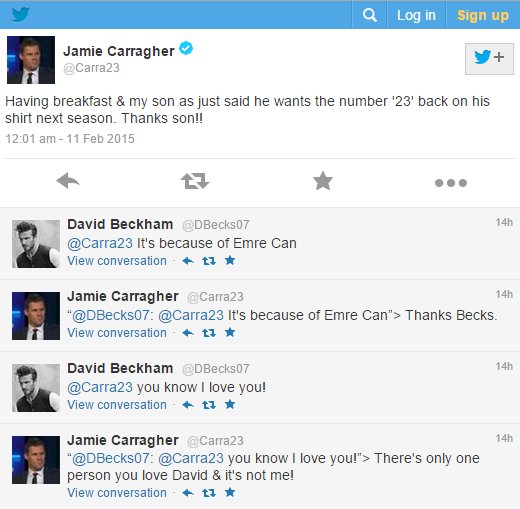 Who do you think Jamie is referring to when he says "there's only one person you love"?!