Rossoneri set for move to new stadium in three years time…
All the latest headlines from the newspapers in Italy as AC Milan reportedly reach a deal with Chinese investors who could become part of the stadium project.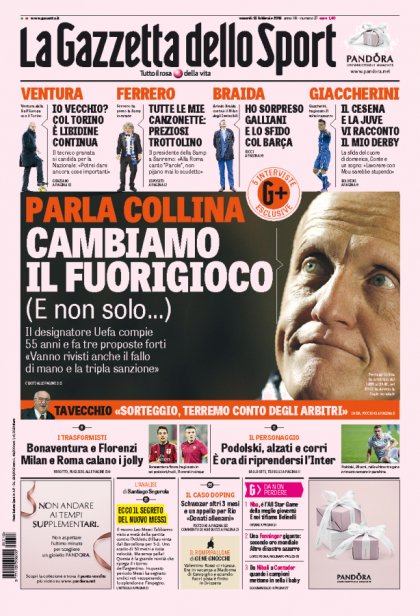 Image courtesy of La Gazzetta dello Sport.
– Pierluigi Collina speaks: "Let's change offside." (And not just that…)
– The UEFA designator turns 55 and makes three strong proposals: "Hand ball and the triple sanction must also be revisited."
– FIGC president Carlo Tavecchio: "We will keep track of the referees." Response to the controversy and anger regarding the system of designating referees to games.
– Torino boss Giampiero Ventura: "I am old? With Torino it is continual lust." The coach throws his hat in the ring to be a candidate for the national team: "I can still give important things."
– New Barcelona head of international football, Ariedo Braida: "I surprised Galliani and will take him on with Barca."
– Giaccherini: "Cesena and Juve, I will tell you about my derby."
– Giacomo Bonaventura and Alessandro Florenzi, Milan and Roma look to their jokers in the pack ahead of an important weekend.
– Lukas Podolski, get up and run. It's time to win back Inter after the German struggled to settle in his first month at the club.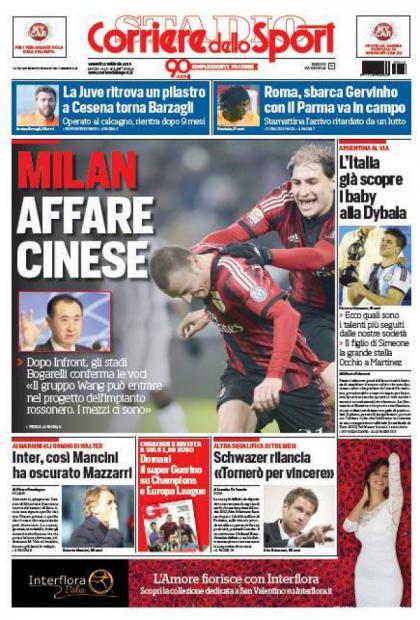 Image courtesy of Corriere dello Sport.
– Milan, Chinese deal.
– After Infront, the stadiums. Bogarelli confirms: "The Wang group could become part of the project for the Rossoneri stadium. The means are there." The new Milan stadium is set to be completed by 2018 and although the Emirates are reportedly set to cover the costs, the new investment will be a bonus.
– Stadio Artemio Franchi covered: the idea is moving forward. Problems over the realisation of the new stadium for Fiorentina: there will be talks over an old project.
– Italy are already discovering youngsters like Dybala. Here are the talents most followed by our clubs. Diego Simeone's son the big star. Watch out for Martinez.
– Inter, this is how Roberto Mancini overshadowed Walter Mazzarri.
Image courtesy of Tuttosport.
– Former Juventus midfielder Emerson gives a recommendation to his heir: "Pogba trust me, it's better at Juve."
– The ex-Bianconero has no doubts: "The Frenchman must not commit the same error that I made, not everything is golden at Real. And with Pirlo close it is easy to improve."
– Juve defender Andrea Barzagli insists that everything is ok. His teammates become Ultras for him as they rally and help him recover from injury.
– "Toro, you will see that in Bilbao…" The symbol Iraola, the star Aduriz and the coach Valverde explain the myth of Athletic.
– Striker Mauricio Pinilla: "Atalanta were the best choice. Toro weren't clear."
– Milan owner Silvio Berlusconi sells shares in Mediaset which is expected to translate into money for the Rossoneri.