Galliani and Agnelli shook hands after recent row…
All the latest headlines from the newspapers in Italy as Lazio president Claudio Lotito makes controversial comments in a recorded phone call and faces trouble.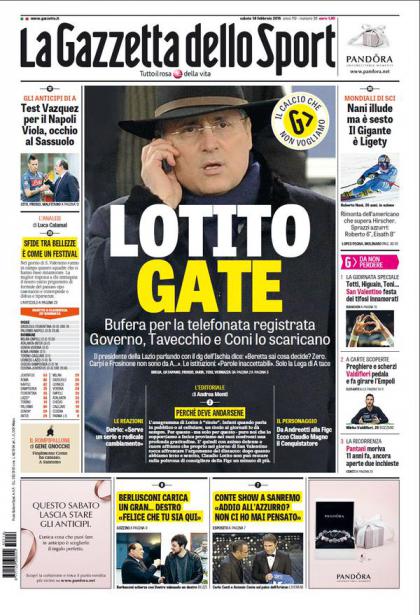 Image courtesy of La Gazzetta dello Sport.
– 'Lotito Gate'.
– Controversy over the recorded phone call from the Lazio President.
– Government, Tavecchio and CONI dump him after he discussed referee designator: 'Know what Beretta decides? Zero. Carpi and Frosinone don't belong in Serie A…'
– Institutions: 'Unacceptable comments'. Widespread criticism of his comments but only the Lega Serie A stays silent.
– From Andreotti to the FIGC: this is Claudio the Conqueror. Lotito facing serious disciplinary action.
– Vazquez test for Napoli while Fiorentina watch out for Sassuolo in Saturday's Serie A clashes.
– AC Milan owner Silvio Berlusconi fires up new striker Mattia Destro: 'Happy you are here' after his move from Roma in the transfer window last month.
– Antonio Conte show at Sanremo: 'Goodbye to Azzurri? I never considered it'. Despite all the speculation over his future, the former Juventus boss insisted that he never thought about resigning as Azzurri coach.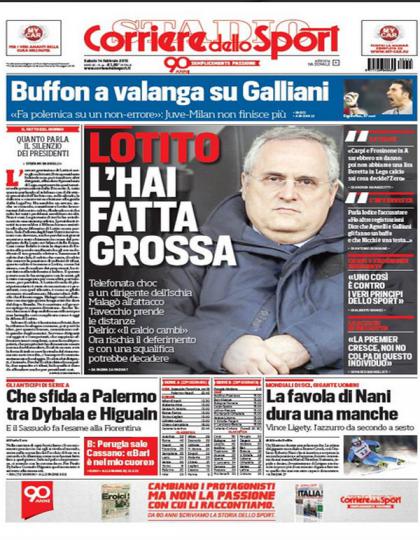 Image courtesy of Corriere dello Sport.
– 'Lotito, you've really done it now'.
– Tavecchio distances himself and Lazio President now he risks being deferred and a ban.
– 'Carpi and Frosinone in Serie A would be damaging, then we'll be left without money. What does Beretta decide in the Lega? Zero'.
– Further damning evident as Iodice the accuser speaks: 'I have other recordings, he said Agnelli and Galliani mean nothing and Nicchi is an idiot'.
– Carpi and Frosinone respond to the comments: 'He is against the true principles of sport'.
– Roma president James Pallotta: 'The Premier League grows, we don't and it's his fault'. Criticism fired from all angles at Lotito.
– Buffon slams Galliani. Never-ending Juve-Milan: 'He created controversy around what wasn't even an error'. The war of words continue after the controversy surrounding the Carlos Tevez offside call in last weekend's game.
– What a battle in Palermo between Dybala and Higuain. Sassuolo give Fiorentina a test.
– Antonio Cassano: 'Bari in my heart'. Italian star still hopeful of return to his former club.
– Agnelli-Galliani: Forced to make peace.
– That cold hand. After row over Juve-Milan, the two directors met in the Lega and shook hands thanks to Preziosi.
– Lotito scandal. Ischia denounce him, FIGC embarrassed, Malago angry, Carpi furious.
– 'Great Toro: do like we did'. Junior from Brazil: 'Right behind the Serie A big boys, success in Europe, they can get back to the good old days. Bruno Peres is fantastic!' Torino back on the rise and Brazilian wants to see it continue.
– 'For Milan I want players young and Italian'. Berlusconi outlines his ideals for the squad: 'Soon we will become a Rossoneri Nazionale'.
– Baselli already booked, then Okaka or Immobile. New targets lined up after the signing of Cerci, Destro, Bocchetti and Antonelli in January.
– Rafa Benitez anxiety ahead of Palermo game while Sassuolo boss Di Francesco gets Montella agitated.