Much is expected of CR7 in particular after disappointing run of games…
All the latest headlines from the newspapers in Spain as Real Madrid welcome Deportivo to the Bernabeu looking to bounce back from their derby loss.
– 'Football to fall in love with again'.
– Real Madrid need to show the face of a leader against Depor after their heavy loss to Atletico Madrid last time out.
– Iker and Illarra to start and Lucas Silva to debut as Carlo Ancelotti makes changes to his side to freshen up the look of the team.
– The Bernabeu to pronounce itself after the 4-0 derby and a tumultuous week.
– The Galicians, with nine injuries and Manuel Pablo (39-years-old) at centre-back.
– Bartomeu loses at the High Court. Tries to deflect the blame to Rosell but doesn't convince Judge Ruz and remains accused regarding the Neymar case.
– The Bernabeu waits for Cristiano.
– Marcelo returns against Depor and Illarra and Arbeloa start as Ancelotti receives some help given all the injuries and suspensions.
– Bartomeu blames Rosell. The President of Barca denies to Judge Ruz negotiating for Neymar and says he signed the contracts and took them as good.
– Correa yesterday trained under the orders of Simeone.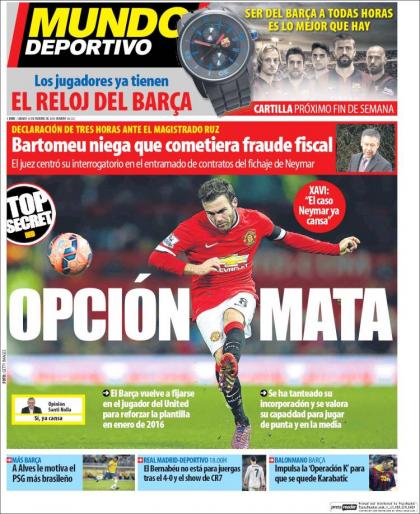 Image courtesy of Mundo Deportivo.
– 'Option Mata'.
– Barca again fixed on the United player to strengthen the squad in January 2016. His signing is considered and he is valued for playing in attack or midfield.
– Three-hour statement before the magistrate Ruz. Bartomeu denies committing tax fraud. The judge centres his interrogation on the contracts in the signing of Neymar.
– Xavi: The Neymar case is boring.
– Real Madrid-Deportivo. The Bernabeu not for partying after the 4-0 and the CR7 show.