Napoli KO'd by Palermo in big blow for Benitez…
All the latest headlines from the newspapers in Italy as Juventus boss Massimiliano Allegri ignores the controversy and wants to focus on his team.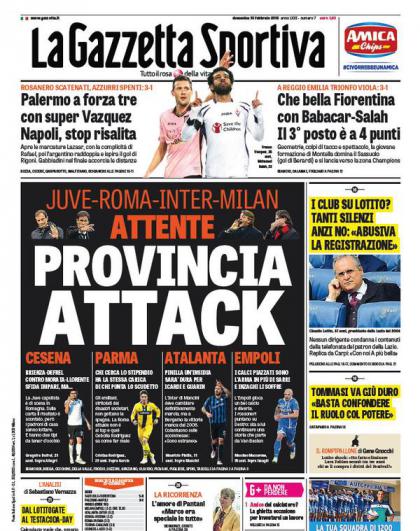 Image courtesy of La Gazzetta dello Sport.
– Juve-Roma-Inter-Milan.
– Top sides must watch out, the provincial clubs will attack them on Sunday.
– Cesena-Juve: Brienza-Defrel against Morata-Llorente might seem unbalanced, but…
– Parma-Roma: Those looking for their wages have the same motivation as Scudetto seekers.
– Atalanta-Inter: Pinilla a danger, tough for Icardi and Guarin.
– Empoli-Milan: Free kicks are their extra weapon and Inzaghi struggles with those.
– Palermo hit third gear with super Vazquez. Napoli climb is stopped as Rafa Benitez has no answer for the Sicilians in 3-1 loss.
– What a fabulous Fiorentina with Babacar-Salah. Third place is now just four points away.
– Clubs under Lotito? So much silence, only protesting the recording. No director condemns the content of the Lazio patron's phone call. Lazio president under fire after recorded phone call of him discussing Lega matters.
– Carpi reply: 'Serie A would be better with us'. Lotito had suggested the opposite.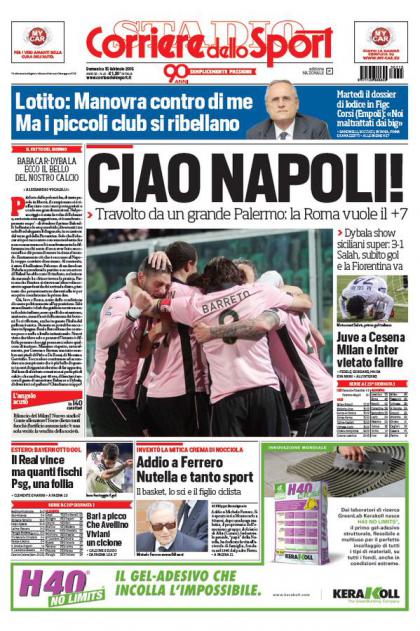 Image courtesy of Corriere dello Sport.
– Ciao Napoli!
– Benitez and Co. crushed by a great Palermo, now Roma can go +7 in second place. Dybala show, super Sicilians win 3-1.
– Salah, immediate goal after arrival from Chelsea and Fiorentina soar with impressive win.
– Juve and Cesena. Milan and Inter must not fail.
– Lotito: There's a plot against me after mid-week controversy puts him under pressure but small clubs rebel. On Tuesday Iodice hands in a dossier to the FIGC.
– Corsi (Empoli): 'We are mistreated by big clubs'.
– Real win, but so many jeers despite bouncing back from derby loss with win over Deportivo.
– PSG madness. French giants held at home.
– Bari crumble, Avellino shine and Viviani whirlwind.
'Allegri wipes out controversy'. Max: Facts, not words as all he cares about is what happens on the pitch with Juve tonight resuming their title push in Cesena.
– Coach rejects Galliani and Lotito protests. 'I am stunned and shaken, but we focus on winning for the good of Italian football too'.
– Carlos Tevez is absent, so it's up to Spanish duo Llorente and Morata to score the goals for the leaders.
– Toro, challenging history. Cagliari and Zola take on Ventura, Quagliarella seeks a goal for the fifth consecutive victory.
– Inter, here is Felipe for the defence. Meanwhile, Icardi is compared to Balo given their talent but temperamental issues.
– Pippo Inzaghi: 'Milan, don't think about my future'.
– Parma arrive, Garcia fires up Roma and Pjanic.
– Super Viola close the gap while the Palermo show shocks Napoli.