Home supporters get angry and jeer the team in the second half…
All the latest headlines from the newspapers in Spain as Real Madrid defeat Deportivo but the Bernabeu is still not completely happy with the team.
– 'Legendary tip-off'.
– Historic. Pau and Marc Gasol will become the first brothers to feature in the NBA All-Star Game in New York on Sunday night.
– Madrid 2-0 Deportivo. Isco and three points Madrid didn't work well in the Champions League week and the Bernabeu gets angry, as they whistle Iker, Ancelotti and the team in the second half.
– Benzema scores and overtakes his idol, Ronaldo Nazario.
– Lucas Silva debuts.
– 'Half forgiveness'.
– Isco: Shines and scores a golazo on a confusing afternoon as the Madrid supporters are given a win to bounce back from last week's embarrassment but they are still unhappy in the second half.
– Lucas Silva debuts, plays 20 minutes and touches the ball 10 times.
– Lionel Messi, 300 games in La Liga.
– Enrique: After Zubi and Eusebio, me next?
– Diego Simeone starts with the trident for Atletico Madrid with Mandzukic, Torres and Griezmann.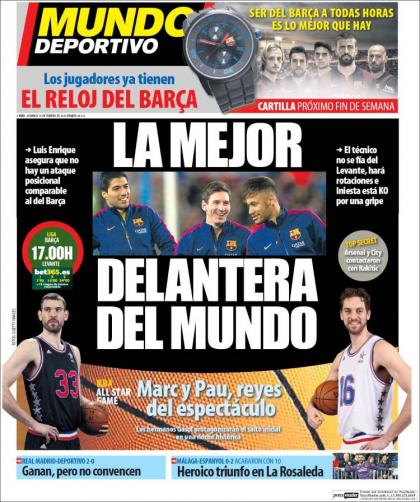 Image courtesy of Mundo Deportivo.
– 'The best attack in the world'.
– Luis Enrique says there's no attack comparable to Barca's. The Coach is wary of Levante, he will make rotations and Iniesta is KO'd with the flu but he is confident that his trident will make the difference as they usually do.
– Marc and Pau, kings of the show.
– Real Madrid 2-0 Deportivo La Coruna. Win, but not convincing.
– Malaga 0-2 Espanyol, ended with 10. Heroic win at La Rosaleda.