Inzaghi and Milan jeered after another draw at home…
All the latest headlines from the newspapers in Italy as Juventus, Roma and AC Milan are all held by provincial clubs on a surprise weekend of results.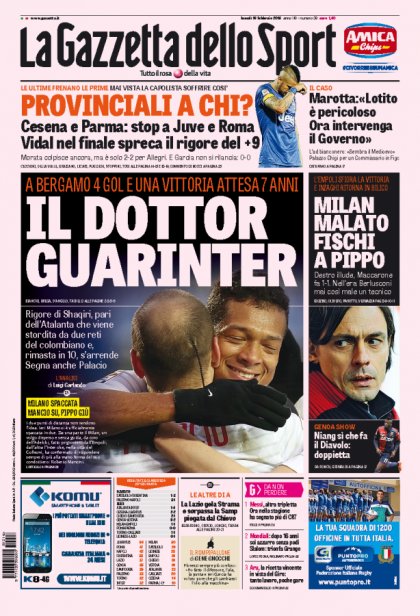 Image courtesy of La Gazzetta dello Sport.
– 'Doctor GuarInter'.
– Four goals at Bergamo and a win seven years in the making. Shaqiri penalty, Atalanta equalise then are dazed by two goals from Fredy Guarian which seals win and eases pressure on Roberto Mancini and his side.
– Who you calling provincial? Cesena and Parma: Juve and Roma held.
– Arturo Vidal misses a penalty to go nine points clear at the end and there is shock as we've never seen the leaders suffer that way.
– Alvaro Morata scores again, but it's only 2-2 for Allegri. Rudi Garcia doesn't restart: Roma held to a 0-0 draw.
– Juventus official Beppe Marotta: "Lotito is dangerous. The government must intervene". The Bianconeri director: "It's like medieval times."
– Milan are ill, Pippo jeered. Empoli come close to winning, Inzaghi returns to being on the edge.
– Destro gives false hope, Maccarone makes it 1-1 as the statistics suggest that a Coach has never done so poorly in the Berlusconi era.
– M'Baye Niang acts like a Diavolo: brace. Genoa show.
– Lazio stop Strama and overtake Samp who are beaten by Chievo.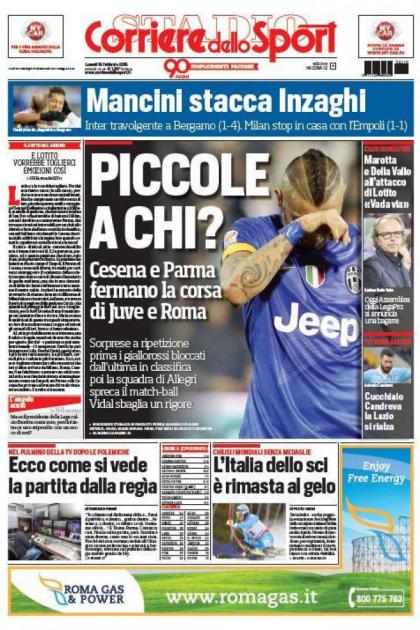 Image courtesy of Corriere dello Sport.
– Who are you calling small?
– Cesena and Parma stop Juve and Roma. Continual surprises, first the Giallorossi are held by the last-placed side, then Allegri's side drop it on match point.
– Mancini breaks clear of Inzaghi. Inter steamroll in Bergamo (4-1). Milan held at home by Empoli (1-1).
– Marotta and Della Valle attack Lotito: "Leave." The controversy from his comments about the referee designation process rumbles on. Meeting today at the Lega, expect a fight.
– Juve and Roma held by the last-placed clubs. Garcia is held by Parma, and announces that the Scudetto is out of reach, but at night the leaders take on the Romagnoli with no urgency and squander the opportunity to extend their lead further.
– After Djuric's goal, the comeback by Morata and Marchisio is thrown away after gifting Brienza the 2-2. Then they throw away the chance to win it through Vidal's penalty and keep the Scudetto race alive.
– Juve boss Max Allegri admits: "Every now and then we become arrogant."
– Another setback for Milan: ouch, Pippo. San Siro jeers a disappointing draw with Empoli. Injury problems mount as Alex and Gabriel Paletta added to the injury list while Diego Lopez will face a suspension for his red card.
– Guarin show. Inter climb by KO-ing Atalanta. Genoa celebrate, Samp Crumble. Verona: Mandorlini on the brink.