Barca running riot with 11th straight win…
All the latest headlines from the newspapers in Spain as Real Madrid are concerned by the dip in form of Cristiano Ronaldo over the last 10 games.
– 'Hand to hand'.
– Hat-trick battle for La Liga. Lionel Messi scores three goals on Sunday to move two behind [28-26]. Cristiano's goals are more decisive for Madrid than Messi's are for the Azulgrana but it will matter little depending on who brings success to their clubs at the end of the season.
– Pepe returns to the squad to visit Schalke. Los Blancos return to the Champions League, their favourite competition, wanting to win to forget the crisis after a difficult couple of weeks domestically.
– Barca take out a beating on Levante. The overhead kick from Luis Suarez seals a cakewalk for Luis Enrique's team, with 11 victories in a row.
– The champions move away from the title. A black night for Atletico who are seven points off the leaders with 15 rounds to go.
– 'Cristiano alarm'.
– His performances and mood concern the club. The Portuguese international only has four goals in his last 10 games. Fitness, suspension or something else? Madrid are keen to find out the issue after a turbulent fortnight.
– Atletico lose strength in Vigo. Celta beat them in everything with a great game for Nolito.
– Hat-trick for Messi. The Argentine is only two goals behind the Portuguese in the fight for the Pichichi.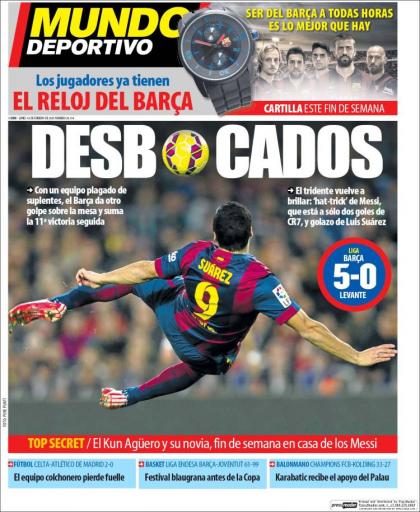 Image courtesy of Mundo Deportivo.
– Running riot.
– With a team full of alternatives Barca land another blow on the table and get the 11th straight win. The trident brilliant again: Hat-trick for Messi, now only two goals behind Cristiano, and a golazo from Luis Suarez.
– Kun Aguero and his girlfriend spend the weekend at Messi's home.