The pair get up close and personal in the recovery room…
Liverpool legend Steven Gerrard is currently nursing a hamstring strain, gained in last Tuesday's 3-2 victory over Tottenham Hotspur, that will keep the captain out of action for three weeks.
Team-mate Mamadou Sakho has been doing his bit to help the recovery in this picture posted on Gerrard's Instagram account…
READ MORE:
(Image) Steven Gerrard Posts Snap From The Treatment Table As Liverpool Skipper Begins Treatment On Hamstring
Liverpool's Lazar Markovic Questions Four Match Europa League Suspension
(Image) Funny! Liverpool's Jordan Henderson Snapped In Unfortunate Pose…
We're not sure what's more worrying – Sakho's creepy stare or Gerrard's pleased expression..!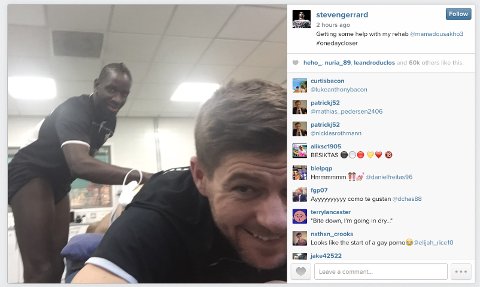 SEE MORE:
Liverpool news – the latest transfer news and gossip on the Reds!