Colombian international draws another blank.
Radamel Falcao was one of the world's most exciting striker's at the beginning of the season, and Manchester United's success in acquiring his signature on a season-long loan from Monaco looked to be just what the club needed to help get them back on track after a disappointing campaign last year.
SEE ALSO:
Radamel Falcao vs Preston – Striker failed to register a single shot
Man United target £95m Serie A duo
Man United player ratings vs Preston
On Monday night Manchester United travelled the short distance to Preston to book their ticket to the next round of the FA Cup.
It wasn't easy, and for a while it looked as though the League One side would pull off a nasty shock, but it was only once the 29-year-old had made his exit from the pitch that United began to play.
Falcao found himself as a Lamborghini in a destruction derby with a group of pick up trucks, and though he should have been able to glide through the game wit ease, he struggled massively.
Obviously, being a £60m-rated striker playing a team that cost only a fraction of what he does, he should have at least registered a shot, let alone a goal, but there are some serious considerations to be made about his career.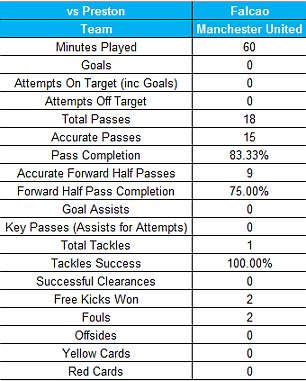 Coming back from a major injury, there are doubts about whether his move to United came at the right time. The Red Devils are desperately fighting to get back to where they think they belong, and cannot afford to carry players that are not quite up to speed.
There is the chance that Falcao's injury has taken a bigger toll on him than expected. There is also a chance that he will never be the same player he once was.
Rumours of his unhappiness at Old Trafford have been rife, and though he has shown glimpses of what he is capable of since September, he is unlikely to change Louis Van Gaal's mind about his involvement.
Frequently brought off for being ineffectual, it's more a case of him failing to impress rather than him not fitting into a system, and that will almost surely rubber stamp his departure from the Red Devils in the summer.
The likes of Real Madrid, who have been linked with his signature, will want to consider this. If he is not being involved, Jorge 'agent to the stars' Mendes will pontificate to the press, which will no doubt cause a great deal of disharmony, and at 29 his peak is passing him by.
United aren't exactly struggling for goals this season, but at £43m, they made well decide t strengthen the side elsewhere rather than cough up that much for a bit-part player.