Lotito controversy drags on…
All the latest headlines from the newspapers in Italy as Inter Milan president Erick Thohir wants Yaya Toure and Paulo Dybala in the summer.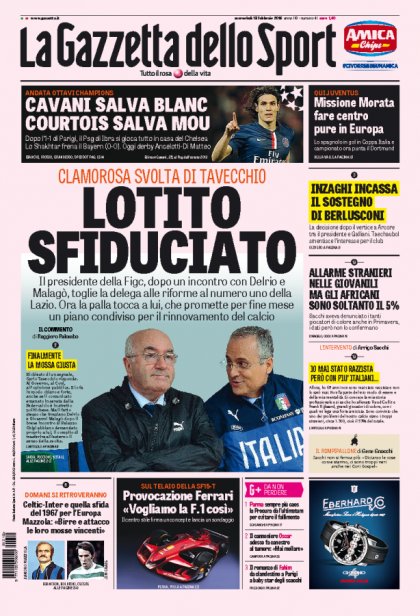 Image courtesy of La Gazzetta dello Sport.
– 'Lotito discouraged'.
– Stunning move from FIGC president Carlo Tavecchio as he removes responsibility for reforms after a meeting with Delrio and Malago. Now the ball is in his court, and he promises a plan to revive calcio by the end of the month.
– PSG striker Edinson Cavani saves coach Laurent Blanc, while Thibaut Courtois saves Mou.
– First leg of the Champions League Last 16. After 1-1 in Paris, Ibra's PSG have it all on the line at Chelsea. Shakhtar stop Bayern (0-0), now the Ancelotti-Di Matteo derby.
– Juventus striker Alvaro Morata's mission – to score in Europe as well. The Spaniard has scored in the Coppa Italia and Serie A, he is now looking at Dortmund.
– Pippo Inzaghi gets Silvio Berlusconi's support. Decision after the meeting at Arcore between the President and Adriano Galliani. Comes after speculation that failure to beat Cesena on Sunday would see Inzaghi fired.
– Wealthy Thai businessman Taechaubol denies interest in the Milan.
– Panic over foreigners in the youth teams, but Africans make up only 5%. Arrigo Sacchi had hit out at the many black players, but stats tell a different story.
– Celtic-Inter and the battle in 1967 for the European Cup. Mazzola: "Beer and attack, their winning moves."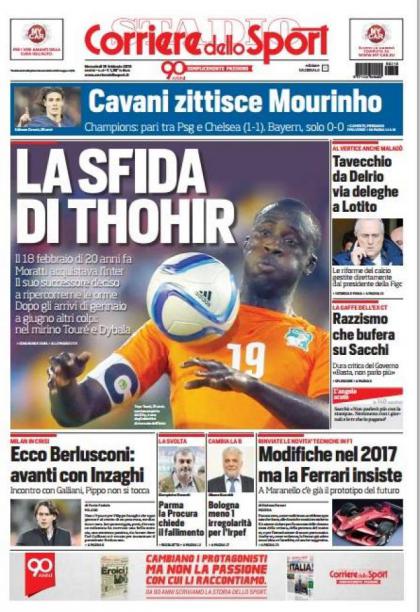 Image courtesy of Corriere dello Sport.
– 'Thohir's battle'.
– 20 years ago on February 18, Moratti bought Inter. His successor is keen on following his lead and after the signings in January, more signings in June: Yaya Toure and Paulo Dybala of interest and will lead the team into the next phase of their rebuild.
– Cavani silences Mourinho. Champions League: draw between PSG and Chelsea (1-1). Bayern, only 0-0.
– Tavecchio meets Delrio, Lotito has reform authorization removed. Calcio reforms will be handled directly by the FIGC President as he looks to change Italian football.
– Berlusconi: ahead with Inzaghi. Meeting with Galliani, Pippo will not be touched.
– Parma, the prosecutors ask for bankruptcy. Problems continue for club despite recent takeover.
– 'Germany votes Juve'.
– We ask the coaches of the Bundesliga: "This is how you beat Borussia."
– Juve boss Max Allegri at Vinovo pushes the squad: "Now we need a jump in quality." Bianconeri finally need to deliver in Europe with a big performance to prove that they can compete with Europe's best.
– Zappacosta speaks: "I think about Atalanta but dream of the Bianconeri."
– Cavani keeps PSG alive. Round of 16: it ends 1-1 with Chelsea in Paris. Punch and response with Ivanovic. Shakhtar hold Bayern: 0-0.
– Berlusconi speaks: Milan to be sold for €1.5 billion. Contradictory considering he has previously insisted that he will not sell the club.
– Lazio, accusations of Euro fixing from Romania.
– Parma case: No wages. But the move to administration is pushed back.