Enrique receives praise for masterminding Barca turnaround…
All the latest headlines from the newspapers in Spain as both Marca and AS insist that it is time for Cristiano Ronaldo to step up and be his normal self.
– 'Time to get out the tunnel'.
– Cristiano against the challenge of being Cristiano. Toni Kroos returns to Germany as a hero while Lucas Silva is the favourite to partner him in midfield against Schalke on Wednesday night.
– Real Madrid search for their identity and style in Gelsenkirchen, where they dazzled last year (1-6). However, their recent form suggests that they need a big performance to repeat that kind of scoreline.
– Pepe in command again.
– The Osasuna plot takes in Betis. The LFP are investigating Betis-Valladolid and Osasuna-Betis.
– Luis Sabalza, President of the Navarrans, recognises 'a strange outgoing of money' of €1.5m.
– 'The time of champions'.
– To avoid another big defeat, Schalke boss Roberto Di Matteo will go with five defenders and three midfielders.
– Time for Cristiano to score. Three games since he last scored.
– AS with the miners of Gelsenkirchen: "We won't have another 1-6".
– The LFP investigating Espanyol-Osasuna in 2014. An audit discovers €2.4m that can't be justified as scandal threatens to go deeper.
– Atletico is the club with the fastest growing social network in the world. Rises 512% on Facebook.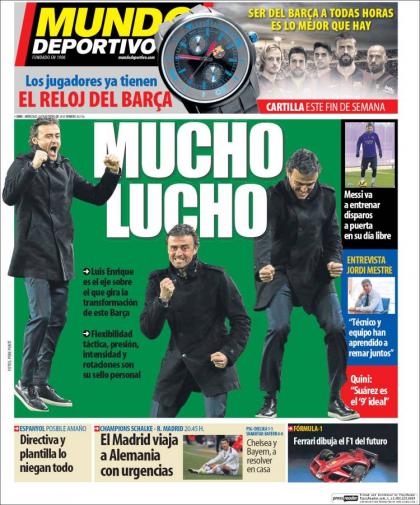 Image courtesy of Mundo Deportivo.
– 'A lot of Lucho'.
– Luis Enrique is the axis on which turns this transformation of Barca. Flexible tactics, pressure, intensity and rotations are his personal stamp.
– Lionel Messi practiced shooting on his day off.
– Espanyol: Possible match-fixing. Directors and staff deny everything.
– Champions League – Schalke-Madrid. Madrid travels to Germany in an emergency.
– Chelsea and Bayern, settle at home after claiming draws away at PSG and Shakhtar respectively.