Blues post commitment to equality… if only all their fans could do the same. 
Chelsea have been caught up in a huge racism storm, after disgusting footage of their fans prior to kick-off with Paris Saint-Germain on Tuesday was released.
The Blues have taken to social media to voice their support for diversity and equality.
In an attempt to tackle the shadow cast over the club, Diego Costa poses for a snap with the caption: "This weekend, we celebrate the club's diversity and inclusion work at our second annual Game for #Equality".
READ MORE:
Chelsea news – all the latest news and gossip on the Blues
Victim Of Chelsea Fan Racist Abuse Found: Calls For Punishments After Paris Metro Incident
City Banker Identified as One of Chelsea Fans On Train During Racist Paris Metro Incident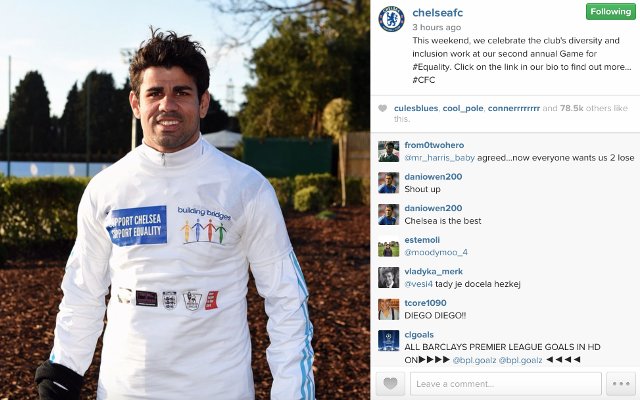 Costa's shirt holds the words – "Support Chelsea, Support Equality" – which is certain to fall on deaf ears, as British and French police still hunt for the fans responsible for forcefully pushing a black man off the metro in Paris, and chanting "We're racist, we're racist, and that's the way we like it".