Tevez rested again as Juve want him in top form against Dortmund…
All the latest headlines from the newspapers in Italy as Serie A has five clubs in the Europa League this season and the hope is that one will deliver the trophy.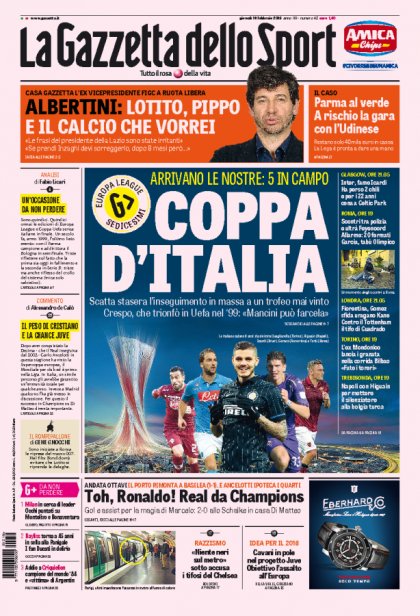 Image courtesy of La Gazzetta dello Sport.
– 'Italian cup'. Our five clubs take the field in the Europa League on Thursday.
– The mass campaign to win a trophy that has never been won begins. Hernan Crespo, who won the UEFA Cup in 1999: believes in Inter and says that "Mancini can do it."
– Glasgow. Inter, Icardi hunger. He's lost 2kg and his 22nd birthday dinner is at Celtic Park.
– Rome. Battle between the police and Feyenoord Ultras.
– London. Gomez takes on the 'hurri-Kane'. Cuadrado will support them against Tottenham.
– Turin. Mondonico launches the Granata in the den of Bilbao: "Be bullfighters."
– Trabzon. Napoli and Higuain look to turn on the silencer in the Turkish madhouse.
– FIGC official Demetrio Albertini on "Lotito, Inzaghi and the calcio I want."
– "The Lazio President's words were irritating. If you appoint Inzaghi you must support him, but after eight months…" Albertini discusses the situation at his former club and wants Pippo to be given more of a chance.
– Parma: The Udinese match is at risk. Only €40,000 remains in the bank. The Lega is ready to give a hand.
– Cavani on pole for the Juve project in 2016. The target is an attack on Europe.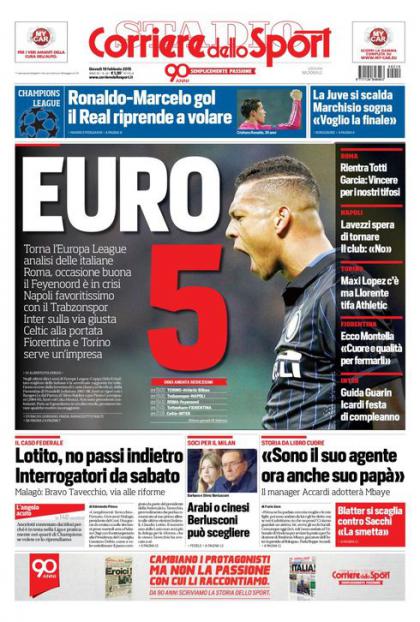 Image courtesy of Corriere dello Sport.
– 'Euro 5'.
– The Europa League returns: analysis of the Italians.
– Roma, good chance as Feyenoord are in a crisis. Napoli are big favourites against Trabzonspor. Inter on the right path, Celtic within reach. Fiorentina and Toro need to pull something off.
– Roma: Totti returns. Garcia: "Win for our fans."
– Napoli: Lavezzi hopes to return. The club: "No."
– Torino: There is Maxi Lopez but Llorente cheers for Athletic.
– Fiorentina: Here's Montella: "Heart and quality to stop them."
– Inter: Guarin leads them. Icardi's birthday party.
– Juve warm up. Marchisio's dream: "I want the final." Champions League a real objective for Juventus again this season.
– Lazio president Claudio Lotito, no turning back. Interrogation on Saturday after the controversy surrounding his phone calls over the referee designation process.
– Arabs or Chinese, Berlusconi can choose. Milan linked with investment again, but Berlusconi will likely reject it.
– 'Stronger Apache'.
– Max Allegri opts to rest Carlos Tevez again. A lot of rest, special training, little sight of the ball and lots of golf: this is the recipe to get the Argentine striker in top form ahead of Borussia.
– Vamos Toro! Meeting with history in the first leg of the Last 32 of the Europe League with Bilbao. On Sunday the match with Fiorentina who will take on Tottenham in London tonight.
– Roberto Mancini cries: "Inter, ready to battle."- In Glasgow against Celtic.
– Roma anti-crisis. Napoli in Turkey say no to Pocho. No reunion with Lavezzi expected in the transfer market.