Los Blancos overcome a difficult period with back-to-back wins…
All the latest headlines from the newspapers in Spain as Real Madrid defeat Schalke and the players celebrate with coach Carlo Ancelotti.
– 'That was for you'.
– Real Madrid see the light [at the end of the tunnel] as the team rally round with Carlo Ancelotti and put their problems behind them with a second consecutive win after the derby defeat.
– A foot-and-a-half in the quarter-final with a comfortable victory. Two away goals and a clean sheet away at Schalke sets up the defending champions.
– Cristiano breaks his slump with a header. Pepe returns and gives steadiness to the defence again.
– 'Dedicated to Ancelotti'.
– Real Madrid with one foot in the quarter-finals thanks to goals from Cristiano and Marcelo. Portuguese international ends his disappointing run with a key goal to break the deadlock.
– The Coach: "After the run in the League, I'm happy". Ancelotti celebrates with the players as they show their unity after premature talk of a 'crisis'.
– Betis investigate their players for match-fixing. Jorge Molina, captain: "I'd put my hand in the fire for Figueras and Amaya".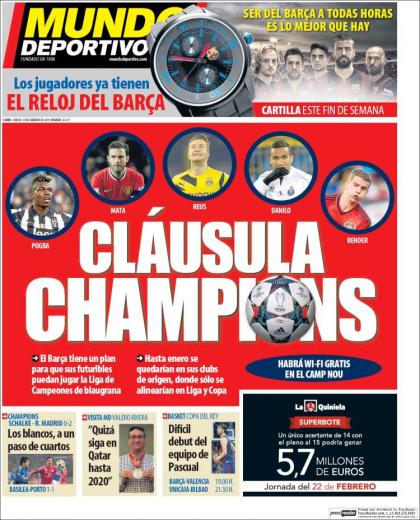 Image courtesy of Mundo Deportivo.
– 'Champions League clause'.
– Barca have a plan so their potential signings can play in the Champions League as Blaugrana. They'd stay at their current clubs until January, where they'd only play in the League and Cup.
– Paul Pogba-Juan Mata-Marco Reus-Danilo-Sven Bender. Barca get creative in order to overcome their inability to complete transfers due to the ban.