The unluckiest club with injuries or the most negligent in prevention?

Arsenal may have looked to solve their torrid injury record in the summer by acquiring the services of Germany World Cup fitness expert Chad Forsythe, but it certainly doesn't seem to have bucked the trend.
SEE MORE:
Arsenal news
(Video) Santi Cazorla v Nacho Monreal: Arsenal stars impress in keepy uppy battle
(Image) Arsenal Fan Gets His Head Stuck In A Car Window Trying To Get A Selfie With Arsene Wenger
Indeed, in statistics revealed by France Football, there have been 54 individual injuries to members of the Arsenal first team which has seen players miss a combined 150 matches so far this season for the Gunners.
Just to put this into context, Arsenal currently sit top of the Premier League injury league, according to France Football, and way ahead of the majority of their top four rivals.
Whilst Manchester United are also riding high, the Gunners other top four, Champions and Premier League rivals have all fared staggeringly better.
Manchester City for instance have had almost 20 fewer injuries with 35 problems ailing their squad, Chelsea have 32 whilst North London Derby rivals Tottenham sit on 30 a staggering 24 fewer injuries than the Gunners.
Below, we analyse just how many injuries Wenger's squad have had by looking at each individual player that has been on the sidelines so far this season: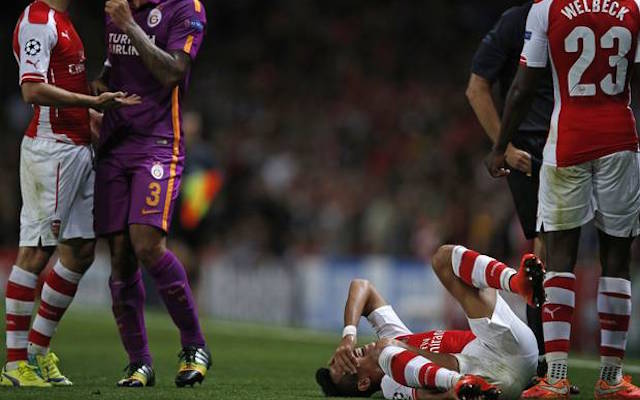 Lukas Podolski: 0 games missed,  1 injury
Call us cynical but this might not have been a real issue.
Podolski's absence coincided around the the time he was set to leave the club to Inter Milan.
Funny that.
Hector Bellerin: 0 games missed, 1 injury
The Spaniard could miss out against Crystal Palace, but this will only be his first injury since his impressive first team emergence this season.
Mathieu Flamini: 0 games Missed, 2 injuries
Another who has only recently acquired an injury this season, but perhaps in Flaimini's case it says more about his current place in the squad, since the emergence of Francis Coquelin, that he hasn't been afforded the opportunity to get injured…
Alexis Sanchez: 1 game missed, 1 injury
Luckily for the Gunners their main driving force this season has seemed almost impenetrable to their injury curse and has only missed one game so far.