'Super Napoli' shine with 4-0 win in Turkey…
All the latest headlines from the newspapers in Italy with reaction to all the Serie A clubs in the Europa League including the 'Napoli show'.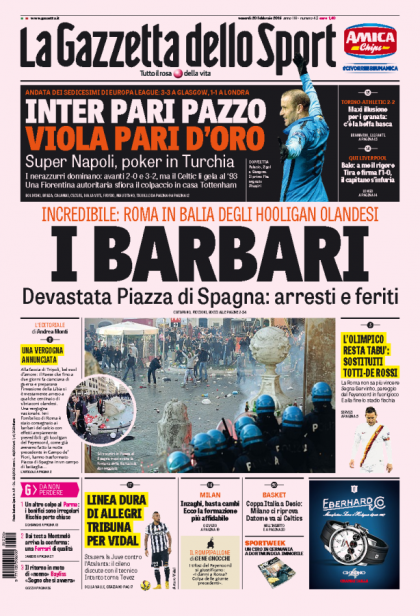 Image courtesy of La Gazzetta dello Sport.
– 'Savages' – Piazza di Spagna devastated, arrests and injuries. Rome at the mercy of Dutch hooligans as 23 Feyenoord 'fans' are arrested in ugly scenes ahead of Roma game.
– Hard line from Juventus boss Max Allegri, Arturo Vidal on the bench.  Tonight against Atalanta, Carlo Tevez returns. Juve have one eye on Dortmund next week but Allegri leaves his Chilean midfielder on the bench for other reasons.
– Inter, crazy draw, Fiorentina, golden draw. Super Napoli, Poker in Turkey.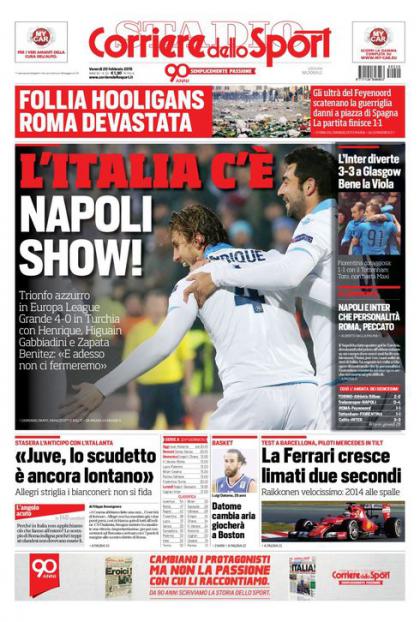 Image courtesy of Corriere dello Sport.
– Here's Italy, Napoli show.
– Azzurro triumph in the Europa League, 4-0 for Napoli in Turkey. Rafa Benitez: "We won't stop here"
– Hooligan madness, Rome destroyed. Feyenoord Ultras unleash war, damage to the Piazza di Spagna.
– Inter entertain, 3-3 with Celtic, good result for Fiorentina.
– Max Allegri: "Scudetto is still far away". Juve still have healthy lead at the top of the table ahead of Roma, but they are not going to get complacent.
– 'Torino believe'. A joke, the 2-2 draw with Bilbao.
– Excellent first half, two goal lead over the Basques, thanks to Maxi Lopez, and miss chances to make it three. Second half came the equaliser that complicates qualification, but on Thursday at the San Mames they can do the business.
– Roma flop again in the devastated city.
– PSG star Edinson Cavani for Juventus. Interview with Marino, Director General of Atalanta who face Juve tonight. "Pogba to leave, with 100m they'll sign the Uruguayan".